We've all been waiting and now, here they are -- the first pornographic photos of Octomom.
TMZ has obtained the first photos of Octomom, a.k.a Nadya Suleman, pleasuring herself during a photo shoot for Wicked Pictures, an adult entertainment company. And it's safe to say the world of porn will never be the same again.
In the photos, the 36-year-old single mother of no less than 14 children can be seen touching herself and attempting to pose in a sexy manner while surrounded by baby clothes. In other photos, Suleman is ironing while dressed in lingerie, and appears topless in several other pictures.
According to TMZ, Suleman has partnered with Wicked Pictures to produce a masturbation video, entitled "Octomom: Home Alone," which is set for online release on June 20.
Suleman shot the video in early May and told The Huffington Post her first porn shoot was "amazing."
"[The shoot was] such a learning experience for me in so many ways. I don't think I could have asked for a better crew to work with. They were so patient and willing to teach me," she explained. "I owe a lot to Wicked Pictures contract star Jessica Drake; she opened my eyes to a whole different world of self-pleasure that I could have never imagined. They made me look so glamorous, and for the first time in my life, I felt beautiful and sexy. I'm very excited for it to come out!"
The video, directed by adult film star Brad Armstrong, also features Suleman seated at the head of a long table while her her body is covered with SpaghettiOs.
"For the pictures, we had her topless with a thick sparkly red choker with a big red heart in front and red and white polka dot panties ... like 1950s style," an insider told The Huffington Post in May. "SpaghettiOs were all over her body and she's even throwing the SpaghettiOs toward the camera. The label on the can was changed from SpaghettiOs to say 'Saucy Octos.'"
Suleman, who once said she would never work in porn, said she intends to use the money from the video to buy her large family a new home.
For more photos from Octomom's first porn shoot, click over to TMZ.
NSFW PHOTO: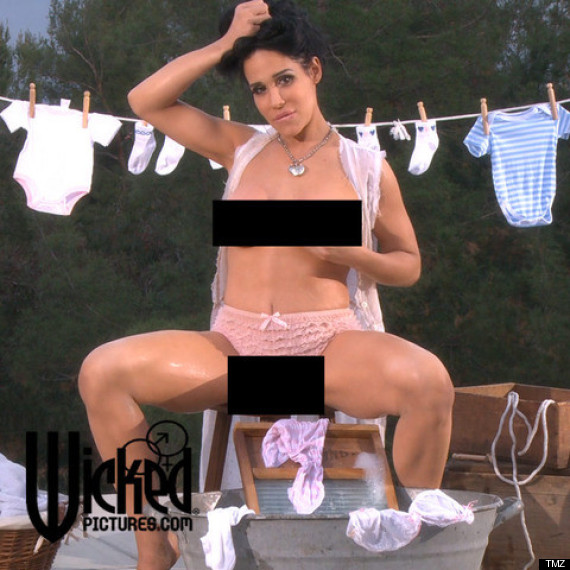 Celebrity Photos Of The Week:
PHOTO GALLERY
Celebrity News & Photos
BEFORE YOU GO