If your dad isn't the type to go for a tie, he might be interested in this, shall we say, unique Father's Day gift idea. You'll start with a few bottles of beer (look for the kind with cool graphics, like those from Rogue Brewery) and then use a glass cutting kit to turn them into tumblers. Interested? Check out the tutorial below for all the details.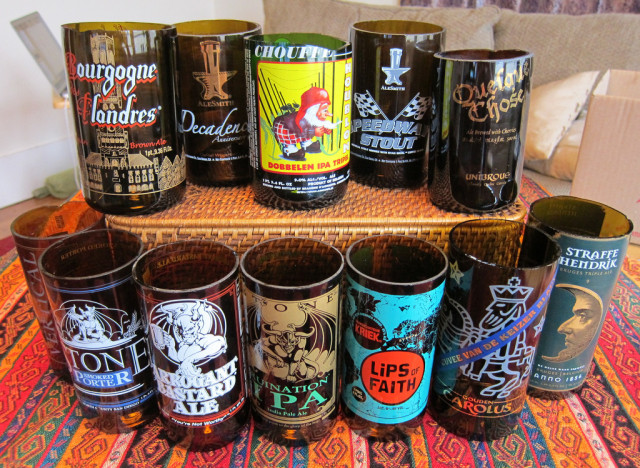 Photo from Flickr user surrealpenguin.
You'll Need:
Beer bottles (with screen-printed, unremovable labels)
Rubber gloves
Safety goggles
Wine bottle cutter (like the Generation Green Bottle Cutter)
Sandpaper (low and high grit)
Boiling water
First, make sure the beer bottles you'll be using are washed, clean and dry. Then, using a wine bottle cutter, score a straight line around the entire bottle where you'll make the cut. Next, boil some hot water (preferably in a teapot.) After putting on safety gloves and goggles, bring the bottle over to a sink and run cold water. Slowly pour a small amount of the boiling water onto the score line you made in the bottle, heating it up. As the glass begins to heat, place the bottle under cold water. You'll notice the bottle has cracked on the score line. Repeat this process once more and the bottle top should fall right off, leaving a smooth edge. Finish by smoothing the edges with sandpaper, beginning with a low grit, working to a higher grit if necessary.
For the full tutorial, watch this instructional video.
Have something to say? Be sure to check out Stylelist Home on Twitter, Facebook and Pinterest.