As Game 4 of the NBA Finals tips off tonight, the AFL-CIO super PAC Workers' Voice will evoke MVP LeBron James in a new ad that spotlights U.S. Senate candidate and Ohio state treasurer Josh Mandel and the ongoing FBI investigation into his campaign.
The ad, which mirrors Nike's famous "Witness" campaign featuring James, shows Mandel striking the same pose as the basketball icon, but with cash raining down instead of James' pre-game chalk ritual.
Last month, the FBI launched an investigation into several contributions to Mandel's campaign.
The new ad, part of a $100,000 buy, links back to the Workers' Voice website, where Mandel is pressed to "come clean" on his campaign cash. The super PAC asks what role the Mandel campaign played in soliciting the contributions that sparked the investigation, when the campaign became aware of the investigation, and why Mandel did not return the questionable donations before the investigation became public.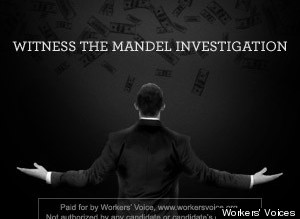 The ad will appear on the websites and sports pages of the Cleveland Plain Dealer and Akron Beacon Journal, among other venues, where it will be seen by people across Ohio. Thanks to the magic of digital advertising, Mandel's "Witness" moment will also be seen via Facebook, Twitter, Google and Bing ads by those discussing James or the Oklahoma City-Miami game.
Democrats have repeatedly attacked Mandel, who is locked in a race against incumbent Sen. Sherrod Brown (D-Ohio), over the FBI investigation and his hiring practices in the treasurer's office. But the 33-year-old candidate got a boost recently, when Ohio Tea Party leaders pledged their support for him, touting him as the only candidate who can put a stop to President Barack Obama's health care law.
BEFORE YOU GO