Stephen Colbert often wraps himself in the American flag and rides a white stallion around town. At least that's what Urban Outfitters would have you believe with their new -- and currently sold out -- "Colbert Report" t-shirt.
The black tee features Colbert in place of Napoleon on a white horse in the statuesque pose from the famous painting of the long-gone French emperor. However, instead of pointing upward as Napoleon did, Colbert is holds his right hand to is forehead in a traditional military salute. And, because we hear he's a fan, the world "America" is scrawled across the top.
After popping up on BuzzFeed this week, the black t-shirt quickly flew off the (virtual) shelves. For once, controversy-prone Urban Outfitters only has to worry about how quickly they can restock this tee.
Somehow we doubt they've had the same issue with their (ironic?) line of Mitt Romney tees...
PHOTOS: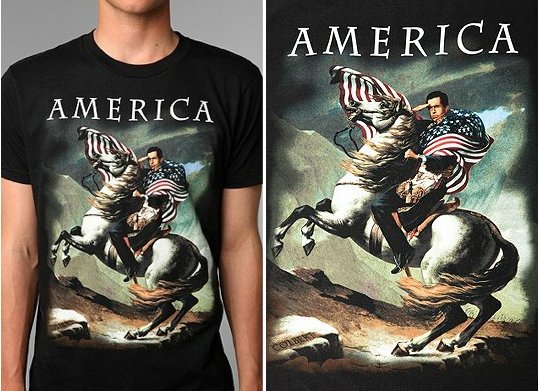 See more Colbert shirts that are still available (!) online:
PHOTO GALLERY
Stephen Colbert T-Shirts
BEFORE YOU GO