Our favorite thing to come out of Design Miami/Basel this past week was Sebastian Errazuriz's mind-bending project, "Occupy Chairs." Cristina Grajales gallery showed this series, which was made out of replicas of signs used during the Wall Street protests that were marketed to the richest of the art festival's attendees. Confused? So are we.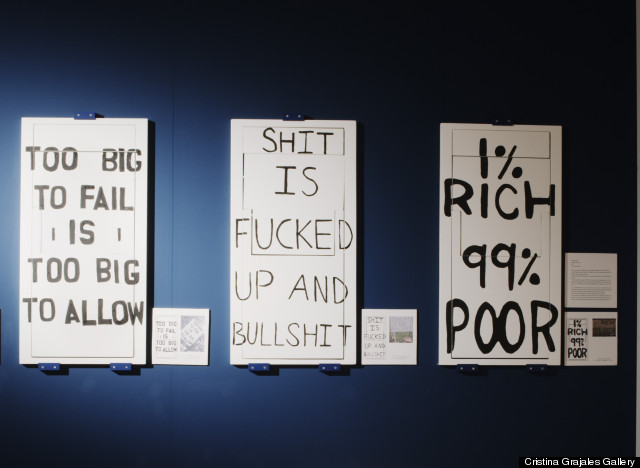 The furniture was first created as signage that doubled as fold-out chairs for protesters during the long demonstrations. But the chairs have moved onto phase two of their multi-faceted deployment plan. The artist behind "Occupy Chairs" now seems to want to infiltrate the homes of the 1% with his obvious protest paraphernalia by inviting wealthy collectors to purchase the "works of art" at exorbitant prices -- $3,500 a pop! Sure, the residents of the Financial District can be faux-art enthusiasts willing to spend money on horrendous examples of contemporary art, but they wouldn't be vapid enough to actually buy a piece of furniture that blatantly expresses hatred towards its intended buyer. Right?
Wrong. Sixteen of these puppies have sold at the festival this week alone. Granted, the purchasers of these over-priced objets d'art could have been rich Occupy-sympathizers and not the CEOs of Citibank and Goldman Sachs. But either way, individuals (most likely members of the 1%) are handing over thousands of dollars to a gallery-backed artist for art that reads "I'm so hungry I made a sign."
The baiting does not end there though. Part of the sales of the "Occupy Chairs" are allegedly going to help the Occupy movement. But the artist has deliberately withheld the exact percentage that he is donating, with the press release for the project stating that he will have to decide whether he's going to fork over 99% in support of the movement's ideals, or hoard most of the profits for himself to pursue the wealth and fame of the 1%. We did the math. If he pockets 99% of the sale of the 16 chairs already sold, the artist and his gallery are making over $55,000 off of plywood and acrylic fold-up furniture. Otherwise, Occupy could be receiving a hefty check in the mail that could buy them seating made of something other than manufactured wood panels.
We are not really sure who this exhibit is fooling, though the thought of an investment banker sitting down to a gourmet meal at his pristine dining set, equipped with eight flimsy "Occupy Chairs" that read "Hungry? Eat a Banker" is pretty entertaining. We'd also like to compliment the gallery on the room lighting -- the artwork really looks ridiculous behind that dazzling chandelier, doesn't it?
Check out images of the Occupy Chairs below and tell us what you think of the idea in the comments section!
PHOTO GALLERY
Cristina Grajales Gallery Sells Occupy Chairs at Design Miami/Basel
BEFORE YOU GO