The recession shifted the former balance in education funding, according to a report released yesterday by the U.S. Census Bureau.
For the first time in 16 years, local governments paid a higher share toward public education than states. The Public Education Finances report shows that public school systems received $593.7 billion in funding in 2010, an increase of 0.5 percent from the previous year. Local governments contributed 44.0 percent of that amount, almost equal to state sources at 43.5 percent, and followed by federal sources that provided the remaining 12.5 percent.
Revenue from state sources decreased by $18.0 billion, which represented a 6.5 percent decrease from 2009. This marks the largest decrease in state funding from the prior year since the Census Bureau began annually publishing school system finance reports in 1977.
Total expenditures by public school systems were $602.6 billion -- a 0.4 percent decrease from 2009. Of that amount, $317.8 billion went toward instructional expenditures, including $211.1 billion for instructional salaries and wages.
In all, public school districts spent an average of $10,615 per student during the 2010 fiscal year, up 1.1 percent from 2009.
D.C. public schools spent the most per pupil of any state in 2010, $18,667. The District of Columbia was followed by New York ($18,618), New Jersey ($16,841), Alaska ($15,783), Vermont ($15,274) and Wyoming ($15,169). This group is largely consistent with a July 2011 analysis by 24/7 Wall Street that ranked states by how much they spend on education.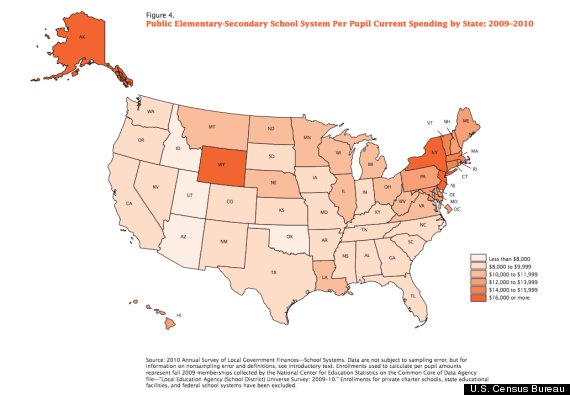 States that spent the least were Utah ($6,064), Idaho ($7,106), Arizona ($7,848) and Oklahoma ($7,896). The nine states that make up the U.S.'s Northeast region were ranked among the top 15 in per pupil spending, while 15 out of the 16 states ranked at the bottom in spending were in the South or West regions. The remaining state was South Dakota, in the Midwest.
Of the 50 largest U.S. school systems by enrollment, New York City School District ($19,597), Montgomery County Public Schools in Maryland ($15,582) and Baltimore City Public Schools in Maryland ($14,711) spent the most per pupil in 2010.
The richest school districts in America, as ranked by 24/7 Wall Street:
PHOTO GALLERY
The Richest School Districts in America
BEFORE YOU GO