We could not be any more excited about LUMEN, the upcoming arts festival that is turning an industrial waterfront in Staten Island into an artist playground built on mounds of salt.
We were already thankful for the unusually warm winter this year, but this is surely the cherry on top. Atlantic Salt, which provides road salt to East Coast cities, was left this year with overflowing salt reserves due to the lack of snow. So what is happening to the 150,000 tons of unused salt? Bring in 50 artists to sculpt salt mountains into sculptures, screens and a giant salt mound, of course!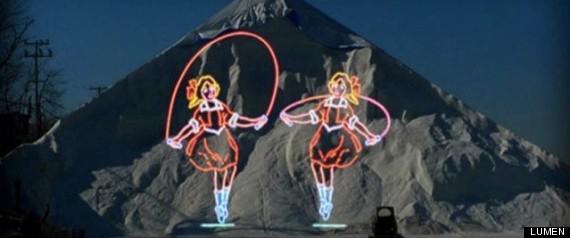 Amanda Morgan

Curated by Christopher Eamon, LUMEN 2012 will feature video installations, new media projections, animation, light and sound art from internationally acclaimed artists including Marco Brambilla, Phillip Stearns, Alex Prager and Mark Soo.
Brambilla will show his renowned "Sea of Tranquility," shown above, a time lapse of the first U.S. moon landing depicting the aestheticized decay of the iconic spacescape. On the main stage, Alex Prager will show her "Petit Mort," a short surrealist film exploring the seductive nature of melodrama, tragedy and violence. Prager's film will be part of an hour-long program with other projected videos including Mark Soo's meditation on the origin of the guillotine.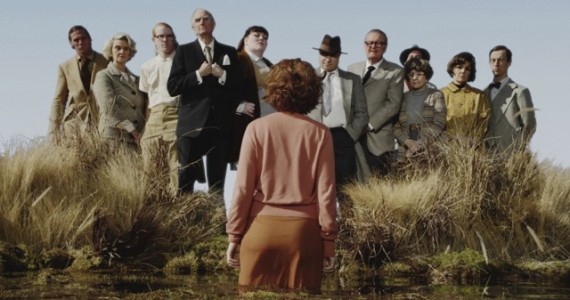 Alex Prager, Le Petit Mort

We are particularly excited to see City Lore and Bowery Arts + Science POEMobile, in which "Staten Island-based heritage-bearers" will perform poetry from Sri Lanka, Liberia and Mexico with music from Oaxaca.
The free, three-acre festival will take place Saturday, June 23 from 6 pm-midnight; 3,000 people are expected to be there. Don't miss this chance to experience what we are imagining as an artsy, adult version of Candy Land (that is very salty instead of sweet.) We hope to see you there!

BEFORE YOU GO