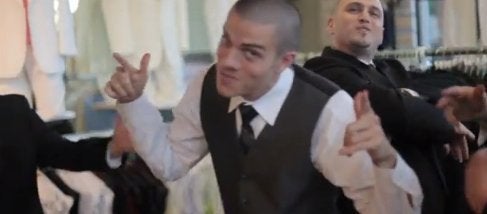 If you're at a wedding and the best man starts his speech with "FYI everybody, it's about to get real weird in here," go ahead and brace yourself.
One resourceful groomsman decided to show off his musical talents at his brother's wedding reception in Harrisburg, Penn., by turning part of his speech into a video spoof of The Lonely Island's "I'm On A Boat."
The nearly four-minute adaptation aptly titled "I'm In A Wedding" features best man Jarrett Juran -- along with groomsmen Bryan Beistline, Brandon Wells and Jamie Klahr -- dancing to a remix of the popular tune that made its debut on "Saturday Night Live" back in 2009.
The general theme of the parody could probably be summed up in one line: "I'm in a wedding... / All take a look at me / The best man so you know I'm acting stupidly."
And, well, that's pretty much how it went down.
"We just kind of had fun with it," Juran told The Huffington Post about the filming process.
Although the spoof has little, if anything, to do with the newly weds, Juran said the remix was preceded by kind words about the couple, which he edited out before he posted the video to YouTube.
In addition, the "I'm On A Boat" parody wasn't the only video the 28-year-old produced for his brother's big day: Juran also put together a slideshow of childhood pictures and footage of the couple spending time together.
"In case [the spoof video] didn't go over too well, this one would make up for it," Juran told HuffPost.
Luckily, both clips were a hit. One left guests in stitches, while the other brought his family to tears, Juran explained.
In the spoof, which was a complete surprise to the couple, Juran predicted he'd get his "sister-in-law shaking her head like crazy." And much to his relief, she did exactly that -- and laughed hysterically.
Perhaps even more shockingly, the bride's father, who Juran described as "old school," gave him some unexpected advice: "He came up to me after and shook my hand and said 'You need to put that on YouTube.'"
For Juran, who once dabbled in the music business, the crowd's reaction was a welcome sign.
"[It was] probably one of the best days of my life," he said.
The song even blasted through the speakers later during the night, giving the wedding party the chance to boogie down to the silly lyrics.
WATCH: (WARNING: The video below contains strong language.)