Matt Yoder, Awful Announcing
Chad Johnson is back in the news, for more than just changing his name back to Chad Johnson from Chad Ochocinco. (Chad World Peace must have already been taken.) He fired off a tweet to "dad", also known as NFL Commissioner Roger Goodell, promising to be a problem this year. That tweet led to Mike & Mike calling out Chad Johnson on their radio show this morning, which led to Chad Johnson destroying Mike & Mike on Twitter.
That tweet from Chad was a topic of discussion on this morning's Mike & Mike. Mike Golic said, "your antics aren't anything anymore, you're past your prime, you're past your date." Golic also said Chad Johnson wasn't funny anymore and the tweet to the commish was. Mike Greenberg added the insight that Chad Johnson was an interesting person doing an interesting thing. Greenberg then moved onto the next topic - "Is there a more interesting person in the world than Charlie Sheen?" Then, someone alerted Chad Johnson to this discussion and he put Mike & Mike on blast. Watch as the Mike & Mike Twitter feed gets knocked down by Chad Johnson as they desperately attempt to get him to appear on their show.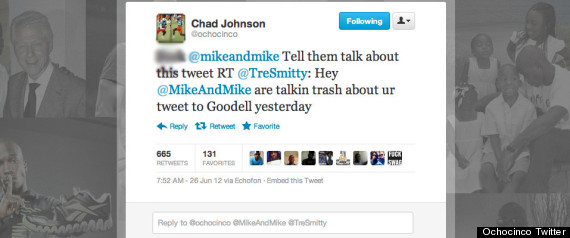 Are we to believe that Mike Golic is actually contacting Chad Johnson's news network to set up an interview with the Dolphins wide receiver? I sure hope so. (Side note - did you know the OCNN actually has its own website with updated posts?) It's a typical ploy for any show in this situation to try and create a story for themselves and say "hey, come on our show!!!" Skip Bayless is the king of this. Not too many athletes can so quickly reply though, "No, you come on my show." Gotta admit, that's a decent comeback. Chad Johnson may indeed be past his prime on the football field, but maybe a return to his roots with his surname will spur a return to his prime as a provocateur. Now if he can only move up the ESPN Radio schedule and take on Colin Cowherd for calling Roger Goodell a dad to fatherless black players...