Food Informants is a week-in-the-life series profiling fascinating people in the food world. We hope it will give you a first-hand look at the many different corners of the food industry. Know someone who would make a great Food Informant? Tell us why.
Jeni Britton Bauer has created ice cream for more than 15 years. Drawing from her traditional pastry training and a pantry of exceptional ingredients, the Columbus resident continues to perfect the frozen desserts for which her company, Jeni's Splendid Ice Creams, is known. Jeni first discovered her love for dessert while working at La Chatelaine bakery in Columbus, Ohio. Her passion for ice cream eventually led to the opening of her first ice cream shop, Scream, in 1996 in Columbus' North Market. With the help of her business partner and husband Charly, she founded Jeni's Splendid Ice Creams in November 2002 in the same market where she operated her first scoop.
Now, Bauer is the owner and creative director of eight elegant scoop shops in central Ohio, one in Chagrin Falls, Ohio, and one in Nashville, Tennessee, with individual pints available online and in freezer aisles throughout the United States. Her ice cream has been praised by Time magazine, the Washington Post, USA Today and countless other media outlets throughout the country. In June 2011, Artisan Books published "Jeni's Splendid Ice Creams at Home." Now in its sixth printing, The New York Times best-selling cookbook has been dubbed "the homemade-ice cream-making Bible" by The Wall Street Journal, while The Washington Post proclaimed Jeni "an ice cream wizard." In May 2012, Jeni's Splendid Ice Creams at Home won a James Beard Media Award in the "Cookbook: Baking & Desserts" category.
When Jeni isn't developing new flavors, she devotes time to Local Matters (the Columbus-based, fresh-food-for-all non-profit she co-founded), as well as reading, painting at her kitchen table, sewing, drinking wine, cooking and making big messes with her husband and two children at their home in Columbus.
Read on to see how Jeni works on new flavors, and how she handles the stress of the Fancy Food Show.
Monday, June 11
10:00am: In our taste kitchen -- which is a test kitchen and photography kitchen, and where we taste and evaluate our flavors. It sits right next to my office. The light in there is beautiful. The cream in our fridge was going bad so I made it into butter. The good people of Vitamix sent me a blender recently -- score! -- and I wanted to see if I could make butter in it. Turns out that you can't -- at least not with non-homogenized cream. So, instead, I made the butter, as I usually do, in our Breville mixer, and it was done in just a couple minutes. Paddled the water out and added some smoked salts. Nothing compares to our Vitamix for pulverizing fruits and veggies (so we use it often), but for butter, the Breville mixer rocked.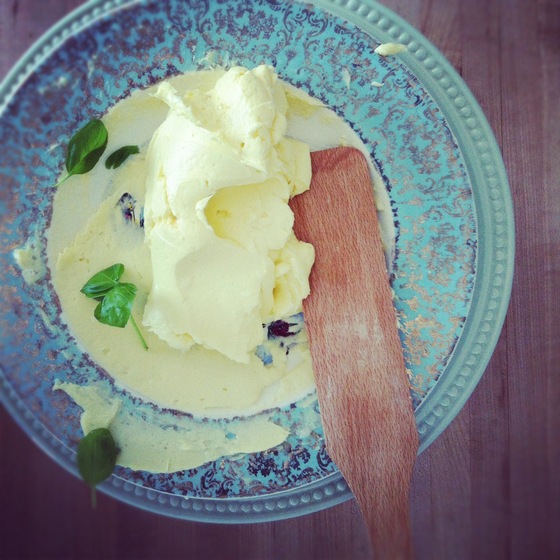 On the next table, our photographer was styling our grapefruit frozen yogurt and I felt it was too buttoned up, so I squeezed every ounce of juice out of the grapefruit, made it look really sexy, and added a photos of Jessica Simpson's totally edible baby for a garnish. She looks as peachy pink as a plump grapefruit. (Of course we will not use the baby garnished photography, but we got a good kick out of it).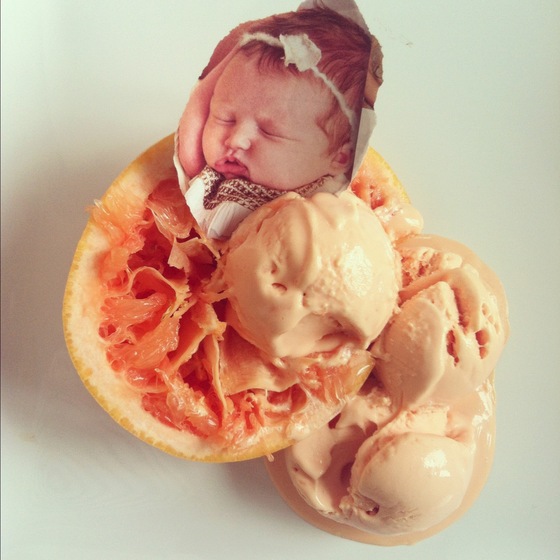 I got so hungry for grapefruit yogurt that I had to go get one of our push pops. It is my favorite of all our flavors. I've been making it since my earliest days in ice cream and never tire of it. It's fresh grapefruit, grapefruit zest, bio-dynamic yogurt and grass-pastured cream. Way better than the unfortunate yogurt shit you find out in the world these days -- sorry, I deplore NASA-engineered, turn-key, fro-yo, fat-free "heathy" stuff. It's only healthy if you think mindlessly eating forgettable food is healthy. Those portions are huge and uncontrollable -- they purposely give you a bowl that's too big and charge by weight. 100 calories per half cup -- but nobody eats 4 ounces, the average serving is 10 or 12 ounces + toppings and then, you might as well eat a full-pleasure scoop of our grass-pastured good yogurt and cream licked slowly on a long walk with your lover -- for, what amounts to, fewer calories and more pleasure.
12:15pm: If there is a better condiment than Tajin in the world, I am not aware of it. So, I ate it with my tuna salad with pickles on tomatoes. Then a bite of a peach that tasted like a tennis ball -- which sat on my desk until it looked like this a week later.
6:15pm: We had to eat fast because we had an event to go to, so it was salami and butter sandwiches with salads. Pink lady apples. Then the dessert bar at a graduation party. I have known Madeleine since she was 2. She would come visit me at my market shop all those years ago when I was in my early 20s trying my hand in business at my first ice cream shop, Scream. Her favorite flavor was my Chamomile ice cream -- which tastes like buttered apples and oatmeal. She is now 17 or 18, graduating high school and she babysits our children. There are many kids that I have seen grow up in the market -- these kids grew up in Columbus on basil or carrot, or backyard mint and salty caramel ice cream, never questioned it. I love that they are all super smarty pants, adventuresome people now. I would like to think that I played a small role in that...along with their parents who chose to take them to the market every Saturday where they grew accustomed to connecting the passionate people with the foods that they prepare or procure. They certainly played a big role in my development as an ice cream maker.
Tuesday, June 12
7:00am: Tragically, our friend's dad was killed in a motorcycle accident. So, we left our house early and headed to Canton for the funeral. Charly and I mostly rode in silence, taking the time to reflect. We just felt so much sadness and love. So much for our friends Michelle and Aaron, and so much for our own families, and the people we work with, and for our community. We felt deeply lucky, and we felt, as we always do, that it can all end tomorrow, so we've got to stop and pay attention now. So, we got chocolates across the street from the church and ate too many of them on the drive back.
2:30pm: You know that feeling of being "sweet-sick"? Two hours of buttercreams from Heggy's Chocolates did it. So, as we reentered our city, we detoured to one of our favorite Mexican joints, Cuco's where we had our usual: guacamole, fish tacos, and a big ass tamale -- because, contrary to common belief, the antidote to sweet-sick is not salt. No, it's umami, and guacamole is full of it. After lunch, I wanted a nap, but instead, I went to see Prometheus. It had been a long, emotional day, and I wanted to check out. So, I hid in the dark theater. Then when I left, my car felt like a spaceship and I cruised around for a while.
6:30pm: I dressed a salad of tomatoes, romaine lettuce, shaved carrots, and mushrooms with buttermilk-mayo-maille mustard and chopped Polish pickles. Greta and Dashiell (my four and three year olds) ate mac n cheese, cooked with broccoli and made gross-out faces at the slices of peach on their plates (which was actually very fragrant, so what the hell?).
Later Charly and I shared a bottle of Cremant, French sparkling white wine that our friend imports from a lesser appreciated region in Southern France through his business in the United States. It was a moment of pure pleasure -- this wine is so so beautiful. We are always stocked with well-made wine because he trades them with us for storage space in our basement under our offices -- which happens to be the perfect cellar for wine -- it's a very old building. He also connects us with various producers in France, like our creme de violette maker -- so we can make violet ice cream, or a voluptuous olive oil from a micro climate in the South of France which we use on top of or in our ice creams. Currently, I am discussing the possibility of a direct trade sea salt with him through his connections on the salty coasts of France.
Wednesday, June 13
10:00am: Ice cream tasting, trying out a new peanut butter and a new chocolate. Both failed. This is common. We fail far more than we succeed around here. But, we take really good notes and learn something new daily. The peanut butter will come from a peanut farmer we know, and it will be honey roasted and delicious, but not today. And we tried a sorbet that we are preparing for the Cooking Light anniversary party this September in New York. We are soaking blackberries in gin from a company called Watershed, who distills gin in the same building as us, then we add a bit of sage. First batches were promising. Those are all my spoons in the photo below (Jake, Pete and Erin from our kitchen team had just as many in their bowls).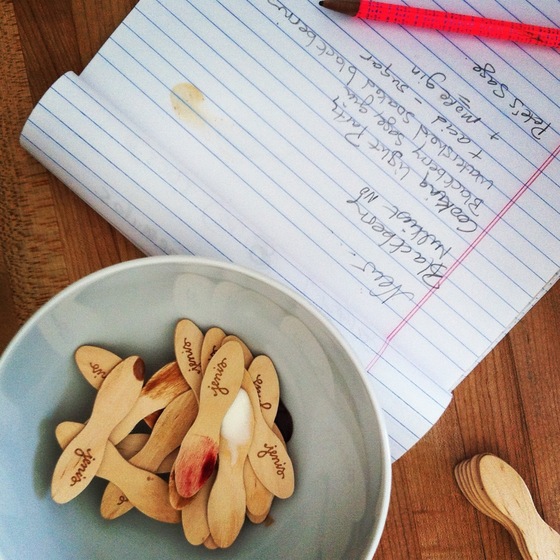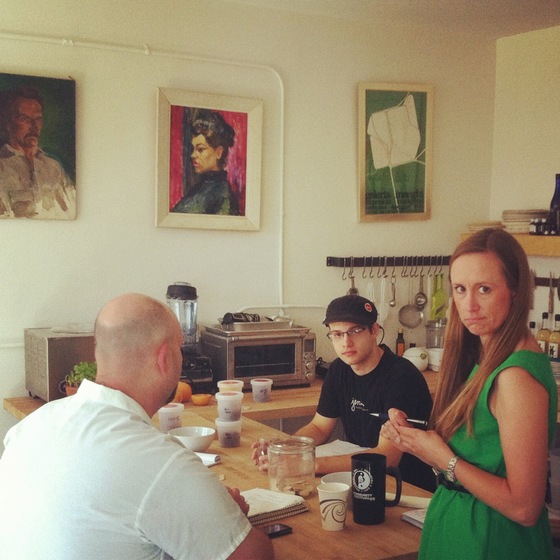 Took Greta and Dashiell to the pool and then across the street to Chef-O-Nette for dinner. It's a classic diner that I've been going to since I was a little girl. I had a BLT that I wasn't excited about and super sweet coleslaw.
Thursday, June 14
6:15am: Shawn Askinosie sent us a really great care package that included some of his award-winning hazelnut spread. We ate it on hearty white bread with coffee. And yum.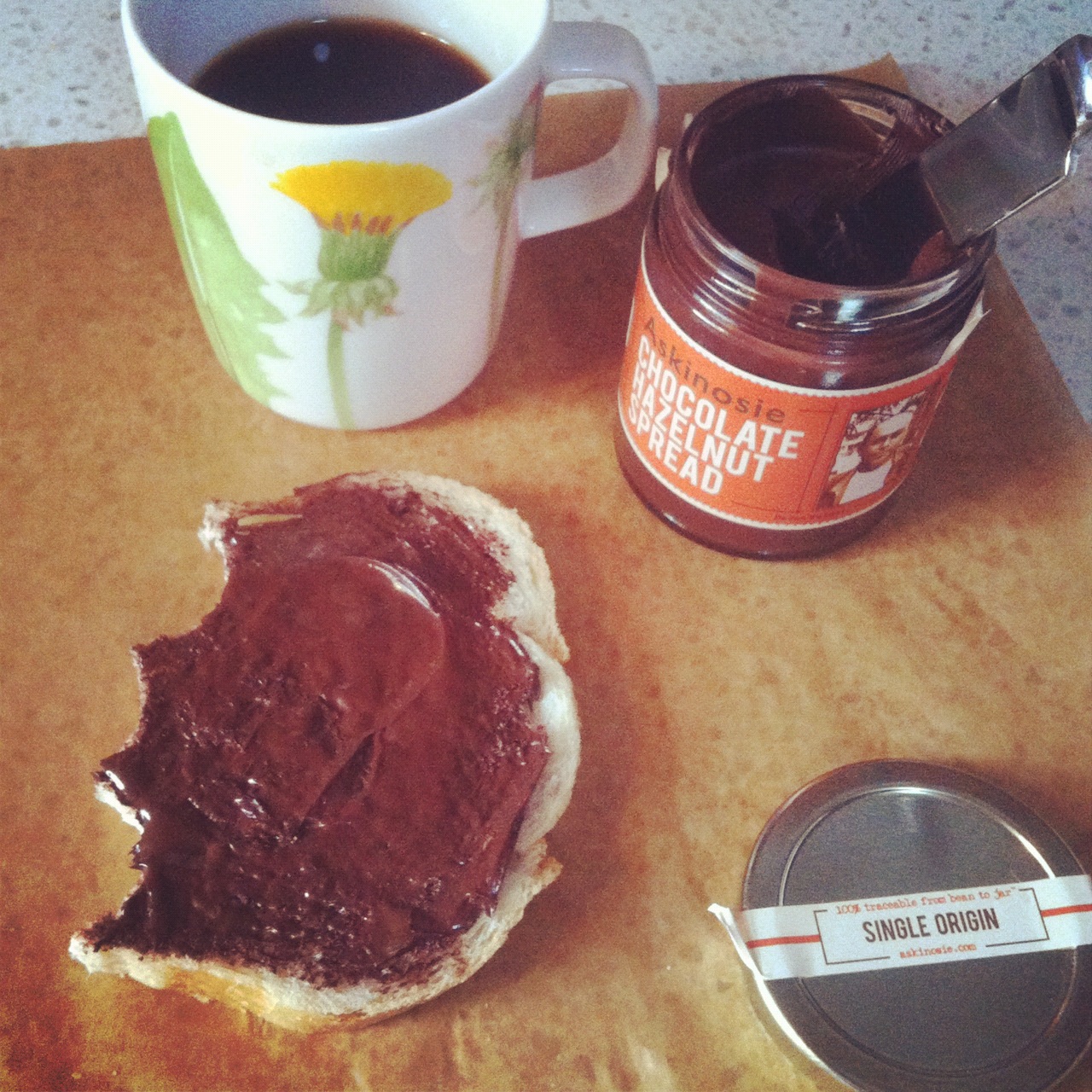 12:00pm: Chef Hubert Siefert is a tornado. Beloved, sometimes feared, always revered. A chef of the European old guard variety, but a very modern and forward thinking fella. He and a handful of others were early visionaries of the Columbus food scene. He bought local pheasants in the '80s, imported Italian marble, had an insane rotisserie restaurant in downtown. He is a legend -- in his former life he was chef for the old king of Spain. He hangs out on yachts in Monaco, and cavorts with race-car-owning royalty. He is a mentor to me and a great friend. Today we are together for lunch to talk about food education and to turn him on to the great work that we are doing at Local Matters -- a non-profit I co-founded in 2006 that does food education, food justice and urban ag in and around CBus. We are trying to persuade Chef Hubert to join our ranks and he wholeheartedly does -- he is a great teacher, and is very passionate about teaching people to cook.
3:00pm: I went to pick up pork necks at Thurns. Forgot they only take cash. Go home, come back. They give me sample upon sample and I go home with much more than I went for. Including their famous ham salad -- which they call "road kill", their crazy delicious braunsweiger, some mild white sausages and other stuff as seen here.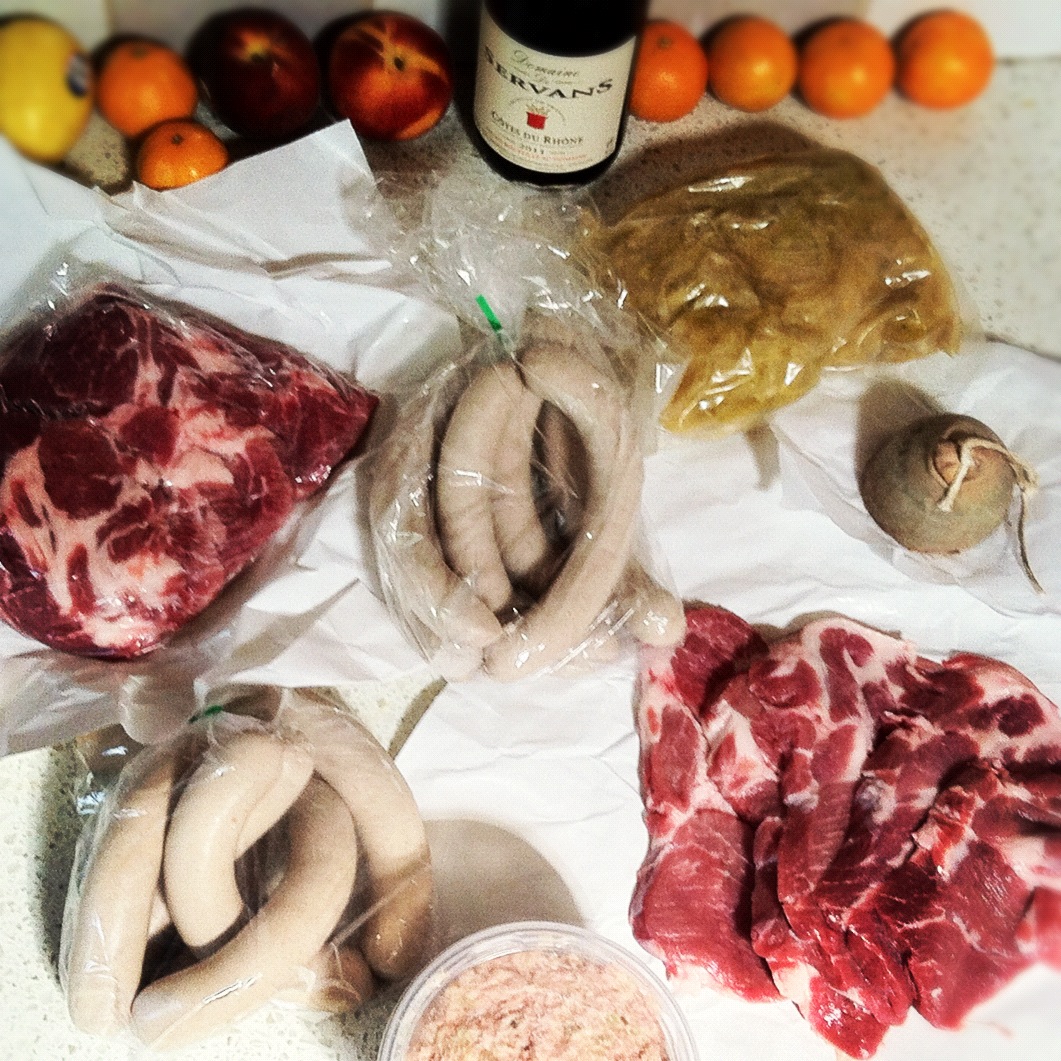 8:00pm: The Pork Tenderloin Sandwich: When I have guests I like to serve them this sandwich I grew up with. Charly's mom is in town to take our daughter, Greta to Maine. First, we eat. It's like schnitzel on a bun -- which is ridiculous because the meat has no chance of matching the size of the bun. I like to emphasize the how silly it is by serving it on a slider bun. Polish sweet-tart pickles, Maille mustard mixed with mayo are the only condiments. I always serve it with caraway and maple cabbage slaw and I made hasselback potatoes at the last minute because a few extra guests came by and I wanted to be sure to have enough food. This time I experimented with baking the schnitzels, but next time I will go back to frying. This sandwich is served all over Peoria, IL and between the Ohio/Indiana boarder -- but not really in Ohio. I ate it once a week growing up in Peoria. Out here, I have to make it myself. Tonight we drank a big bottle of Saison beer from a company called Rockmill.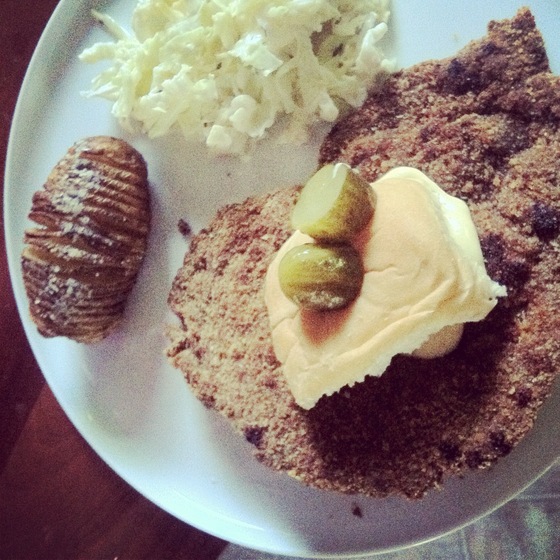 Friday, June 15
8:00am: We get together at least once a month for a company-wide meal. It all started 10 years ago at my home table, I would make a gigantic platter of fresh tomato pasta and invite all the kids from the shop over. Back then we could all fit around the table. Now, we have 300 employees. Not everyone comes to every meal, but a lot of people do. Our kitchen team always goes all out when it comes to our meals. We fill our plates and life stops for a moment and we eat together -- conspire together. Today's menu included angelic biscuits that I felt were on par with the famous Loveless Cafe's in Nashville, some white gravy with sausage and onions that was excellent (but didn't photograph well), a study of quiches, some of our jewel-toned jams, a bread pudding and a lot of fresh cut fruits. Over 100 people showed. Because we have so many musicians who work in our kitchen, the topic of conversation today was about the Christmas album that we've been scheming -- but haven't started yet. We will sell it and donate the money. But, first we have to write the songs, find a recording studio, get the right bandmates and cut the record. We get on many of these trains, it'll either take us somewhere or it will crash and burn. That's the fun of company lunch (or in this case, breakfast).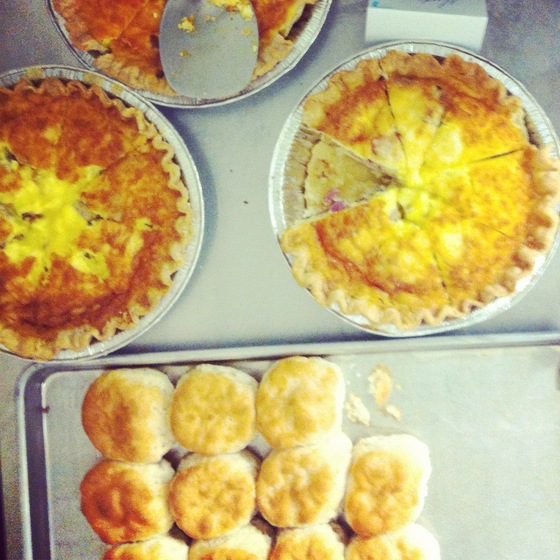 Saturday, June 16
9:30am: We stopped at our office to pick up vanilla beans for display at The Fancy Foods Show booth. To the airport.
2:30pm: We dropped our bags at the Liason Hotel on Capitol Hill and then walked straight to the National Gallery -- there is a George Bellows show there now. And Joan Miro, too. We were starving so we went to the Garden Cafe for a bite before entering the exhibit. Today, Chef Jose Andres has created a menu that is inspired by Catalonian cuisine and Joan Miro. We ate quickly because we wanted plenty of time to see Bellows. The show was life changing for me. I fell in love with George Bellows. (I got yelled at for taking this photo of his painting.) When we left, we happened upon a soapbox derby in progress right next to the Capitol Building. So we paused to watch a race and I snapped the finish.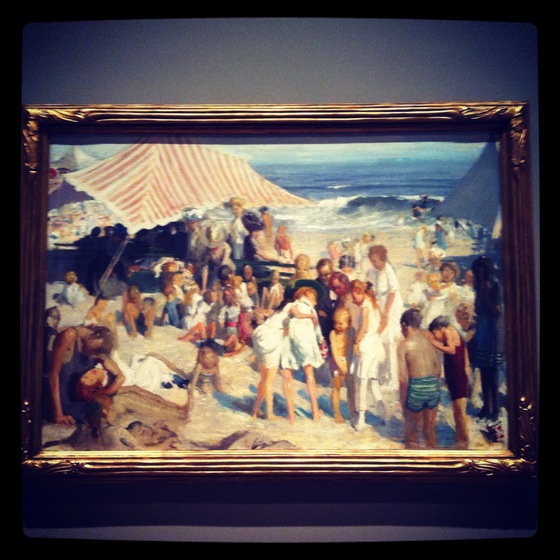 5:00pm - 8:00pm: EPIC NAP.
8:00pm: We gathered with our team of seven at a place around the corner from our hotel -- and the Capitol -- called Johnnie's. We went there because it was close, not crowded, and it had beer. We ate clams and mussels sauced with a bright green tangy curry of some sort and pork croquettes that reminded me of April Bloomfield's lamb scrumpets -- shredded, fatty meat molded, then breaded and fried and served with a tangy sauce. Then we discussed our strategy for the show. It is only our second Fancy Food Show so this whole thing is very new to us. We want to keep the focus on our quality -- grass-pastured, small-farmed dairy and other direct trade ingredients. After a few beers, we get to bed, ready for the madness tomorrow!
Sunday, June 17
9:00am: Opening day of the Fancy Food Show. I am pissed. Dropping F-bombs, and trying not to lose it. The ice cream has melted and partially refrozen. It's icy. The show opens and our rented freezer has let us down. The repair people are nowhere to be found. We are freaking out and trying to hold a smile as the crowd around our our booth begins to swell. We are giving out samples of imperfect ice cream. I am sick about it. A snarky gal comes over decked out head to toe in some "artisan" ice cream brand and identifies herself as "our competitor here to check out the competition." Of course, she is given melted, refrozen ice cream and it kills me.
Super Hero Scott runs off for a long while, and eventually comes back with another freezer -- a chest model that doesn't fit with our display -- but who cares. Plug it in, and a half an hour later he brings out the reserve, which I am worried will have also melted and refrozen. As he loads, I taste every flavor. PHEW. I mean PHEW. They are all perfect. The characteristic dense buttercream texture that we are known for melts perfectly on my tongue. The flavor of that grass-pastured cream is great. I am quietly dropping reverse F-bombs in celebration and relief. So, I leave the stand for a quick walk around the upper hall -- which will be the only time I do so for most of the next three days.
12:00pm: First thing I do is find Shawn Askinosie and eat my way through all the new stuff. He invites us to Tanzania next year -- which is awesome because I am already planning a trip to Uganda to meet up with our vanilla bean growers, and Charly would love to get back to Malawi (he was there in the Peace Corps). I meet up with Abbe from Lucky Penny Farm who has finally got the right certifications so we can begin working together again. She has a farm in Ohio and makes cajeta -- goat milk caramel -- from milk from her grass pastured goats. It's killer stuff. We vow to get it back on our list. I ate a black tea and bergamot dusted cheese that I fell in love with from Beehive Cheese Company. And then I ran into Katrina Markoff from Vosges and we had a lovely conversation. I would love to make ice cream for her -- it's tough, but it would be cool. On my way back to the booth, while walking through the Mexico exhibit, I notice the Tajin stand -- and told the woman there how much I love it. She was floored that I had even heard of it and she loaded me up with samples. Back to the booth to smile and give out ice cream samples all day.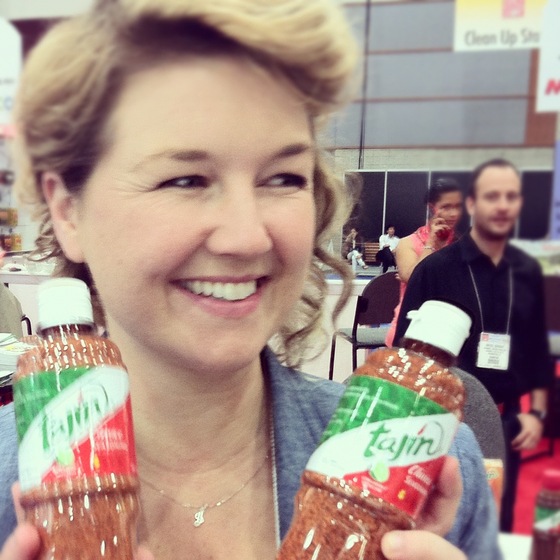 7:30pm: It was Father's Day so I took Charly to Bandolero on a recommendation from the D.C. food writer Carol Blymire. Charly had some great margaritas and I had a killer rose and some really tasty food. They serve their guacamole with pork rinds -- and I will too, from now on. Then we ate suckling pig tacos with habanero mustard and green apples. I have never eaten anything better.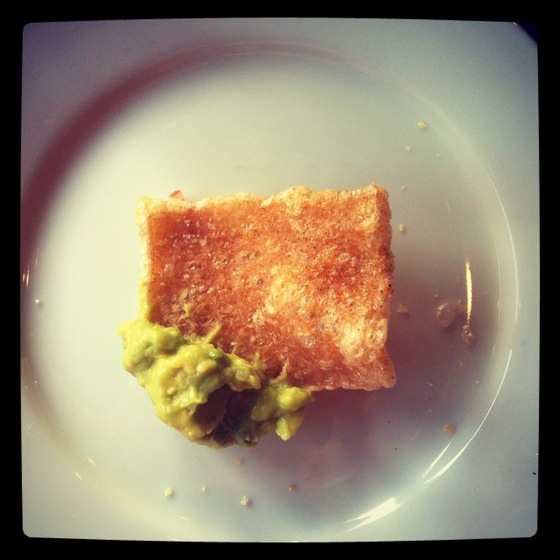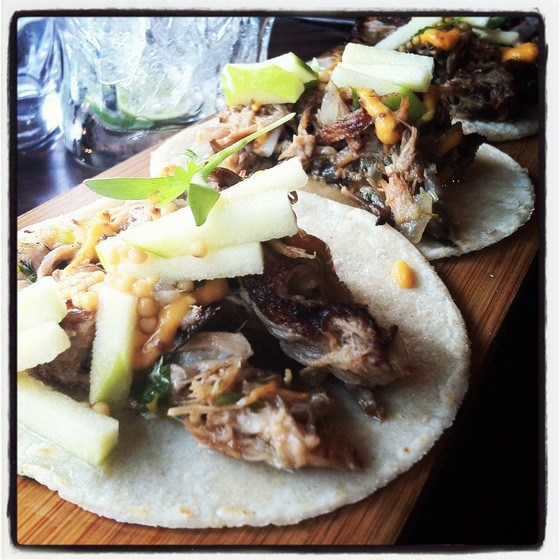 Tomorrow and the next day we will get up and do it all over again.
Thank You Instagram.
See more Food Informants below:
PHOTO GALLERY
Food Informants