Isa Brito came to New York in 1984 with a Kodak Instamatic and $200. Her photographs from her early New York days went on display last night at the Milk Gallery. A pixieish type with an eye for dark alleys and city lights, it is fun to imagine the naive waif traipsing around snapping the gritty New York nightlife with the occasional drag queen, little person or celebrity.
In our interview, Brito cited Diane Arbus as an inspiration and her attraction to ugly is clear, whether from an irreverent crotch-grab or an unbathed rocker. Yet while Arbus' ugly makes your stomach turn, Brito's is pleasurable to look at... and actually makes you a bit jealous. While the photographs aren't particularly gripping or inventive, their grime-covered glamor is extremely addictive. Brito is more of a storyteller than an artist, which is not a bad thing. There was a huge space packed with people clamoring to look see through the doe eyes of the darling protagonist, wandering through 80s New York like Alice in Wonderland. This may or may not have to do with her 'BFF' affiliation with Entourage actor Adrian Grenier, who was as sought after as the artist throughout the event. But the crowd appeared to be taken by Brito and her retro adventures. They also appeared to be looming by the evening's photographers, fashion bloggers and PR folks, hoping to be the modern day versions of Brito's dangerously cool beauties.
Read our talk with Brito on her first solo exhibition and scroll down for a slideshow of the photos.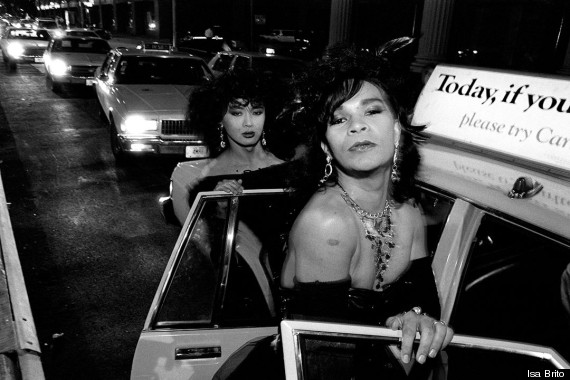 HP: What is the significance of your exhibition's title, "Passengers"?
IB: In my life in New York I have constantly encountered people coming in and out, passing years here, getting lost or finding themselves. It feels like Grand Central station in constant motion with different paces and varied lengths of stay. These photographs also represent a passing period in my life when I was free and lived for the moment.
HP: Your press release says you switched to black-and-white 35 mm film after being "encouraged by an older gentleman photographer." We're intrigued. What's the story there?
IB: My second home in NYC was a studio apartment in Hell's Kitchen that I shared with an intimidatingly beautiful Japanese/Brazilian topless dancer. She usually dated around, but this older gentleman was a consistent staple in our apartment. He must have been on his late 40s, and we were only 19 at the time. He was a food photographer and expressed interest in my photography. He took me to the Guggenheim and to MOMA to broaden my knowledge of art and spent time critiquing my Kodacolor drugstore-made prints. He taught me about composition and content and introduced me to me Diane Arbus.
HP: Your exhibition references your "naïve eyes and tendency to land in precarious situations." Is danger part of the allure of your works?
IB: Danger is not part of the allure of my work, but certainly something I have encountered. I was once walking down Broadway and saw a couple fighting. The man was very aggressive and pushing the woman against the wall while they both shouted angrily at each other. People started gathering around them tried to separate them. I began to take pictures of the whole scene until the woman (in the fight) suddenly saw me shooting. The mob quickly turned to me and my camera was violently taken from my hand. In all the commotion someone slapped me hard on the face and I fell onto the floor.
Another time I landed myself in a dangerous situation I was visiting a museum in Budapest. Instead of walking right in, I decided to stroll around the beautiful building on a photo expedition. There were some woodsy areas around the area and no one else in sight. I sensed someone was following me, and could feel a presence getting closer and closer. When I dared to take a look behind me, a man had his pants unzipped and muttering something in Hungarian and coming towards me. I ran as fast as a could and escaped safely.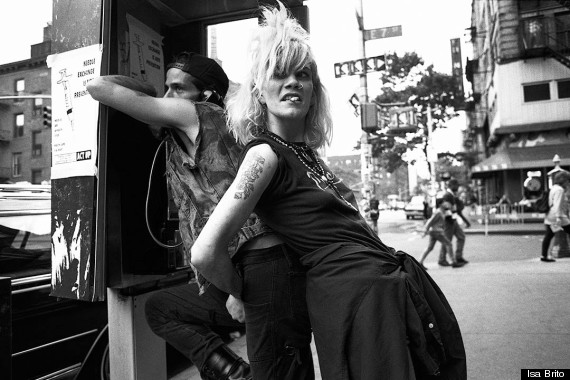 HP: There is something deliciously 80s about this collection, which has its fair share of leather and feathered hair. What role do you see nostalgia playing in the exhibition?
IB: These photographs were mostly shot between 1984 and 1995. Nostalgia is what brings this exhibition to life. No one was very interested in these photographs at the time [they were shot]. So much of that NY is gone now, and there seems to be interest of people revisiting the grittier and grimier side of New York. The younger people share a curiosity about this time period and sometimes a desire to recreate that atmosphere, especially through their style.

HP: Do you think nostalgia brings a photograph to life or has the ability to flatten its complexity?

IB: It depends on the state of mind of the viewer. Nostalgia seems to stem from personal association, so in that sense it can definitely bring a photograph to life. A viewer may make a connection with an image based on this sensory perception that may not have existed otherwise. Not all photographs are deeply complex either, and it is once again the viewer's interpretation and personal relationship with an image that can make it flat or alive.
HP: Where is your favorite place to find eye candy for your camera in New York City?
IB: There is eye candy everywhere. From Wall Street to Central Park to Staten Island. Its not the place that is important, it is being aware of the action around you. Last week I saw two ladies comparing toe callouses on a park bench in Union Square. Later that same day, I saw a waiter's jacket catch on fire while he was flambeing a couple's dessert. These are the odd moments of the everyday that I love to capture.
Isa Brito's "Passengers" will show at Milk Gallery in New York until July 1, 2012.
See a slideshow of her work below, and let us know your thoughts in the comments section.
BEFORE YOU GO