We wouldn't expect anything less from the pop star who tweeted a photo of herself peeing in the street.
On Wednesday, Ke$ha tweeted a photo of her latest tattoo -- and it's one that can only be seen if she wants to show it off. The 25-year-old singer had the words "SUCK IT" tattooed on her inner bottom lip, courtesy of the folks at Alchemy Tattoo in Los Angeles.
"new tatt!!! @alchemytattoola http://instagr.am/p/MXqKieu1Xu/," she wrote, posting a close-up photo of her new ink, while also showing off some dental work with a gold tooth.
The new tattoo seems like just another obvious attempt to keep Ke$ha appearing edgy -- and follows a long line of stunts she has posted to Twitter.
In April, the singer posted a photo of herself peeing in the street and in March, she showed off her newly shaved and studded hairstyle. Other "edgy" tactics include her "Put Your Beard In My Mouth" blog, which features photos of the singer with fans who -- you guessed it -- put their beards in her mouth.
PHOTO: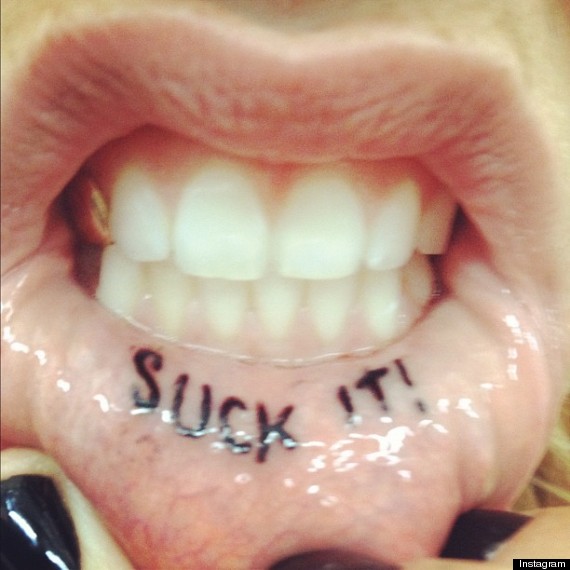 PHOTO GALLERY
Ke$ha Put Your Beard In My Mouth(CLONED)
BEFORE YOU GO