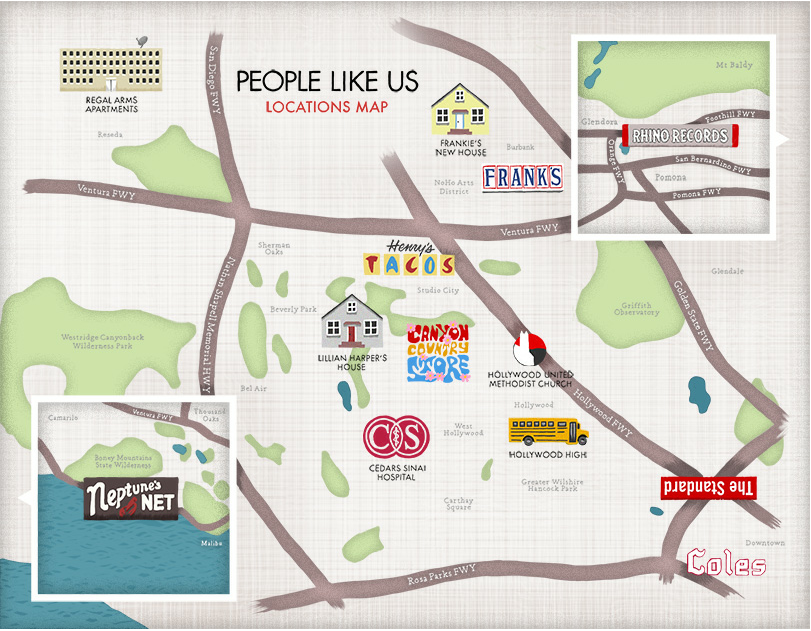 [Check out an interactive version of this map on the film's Facebook page]
There are a lot of great things about the upcoming family drama "People Like Us": Elizabeth Banks' smile, Chris Pine's piercing blue eyes and Michelle Pfeiffer's canyon mom style. But our favorite thing about the film is its largest character of all -- the gorgeous city of Los Angeles. Director Alex Kurtzman takes his stars up, down, around and through LA's most iconic and beautiful arenas, from Malibu to Downtown and through the windy lanes of Lauren Canyon.
But why LA? Kurtzman was born and raised here, as was his writing partner on the script, friend Roberto Orci. The story is loosely-based on Kurtzman's own life, and we guess that separating this story from the backdrop of LA was impossible.
Chris Pine (bonus: grew up in Studio City) plays a struggling but charming businessman who, after flying home to LA for the funeral of his estranged record-producer father, discovers a large amount of cash that he is told to deliver to a 11-year-old. It turns out that that 11-year-old is his nephew, and that he has a 30-year-old alcoholic sister (Elizabeth Banks) that he never knew existed. Cue the family drama.
Take a peak below at the "People Like Us" location map and stills from all of the LA spots:
(Photos courtesy of Disney/Dreamworks)
PHOTO GALLERY
'People Like Us' LA Locations