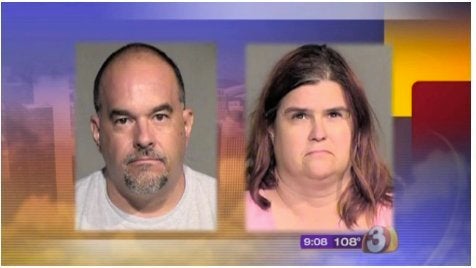 A man is accused of offering a young boy $1 to have sex with him.
An Arizona couple working for their local school district -- one as a bus driver, the other as a caretaker for students with mental or physical disabilities -- are facing charges of child abuse.
Brian DiCamillo, 39, has been accused of child molestation, child pornography and child prostitution, while his wife, Jennifer DiCamillo, allegedly knew about these crimes and did not report them, according to the Phoenix New Times.
Revelations about Brian's misconduct came to light when he allegedly offered a 10-year-old boy $1 in exchange for sex while the boy was in his home. When the boy declined, Brian instead showed him graphic pictures of a five-year-old boy, according to police.
"The child became afraid of Mr. DiCamillo, and he fled from the home," said Phoenix Police officer James Holmes, according to AZfamily.com.
When police investigated, they allegedly discovered that the boy in the pictures Brian had showed was in fact his six-year-old son. After obtaining a warrant, they found other pictures of the DiCamillo's son's penis urinating in a cup alongside another penis, according to documents obtained by the New Times.
Jennifer allegedly told police she had caught her husband behaving inappropriately with her son twice, but had let it slide with the promise that he would not do it again. The second time, she said she spotted him "rubbing his penis against [the boy's] naked butt," legal documents claim.
Brian has been charged with four counts of sexual exploitation of a minor, two counts of sexual conduct with a minor and one count each for both child prostitution and furnishing obscene material to a minor. Jennifer has been charged with two counts of child abuse.
The couple's employer, Deer Valley Unified School District, has said both will be terminated if convicted, reported the San Francisco Chronicle.
This episode comes just months after a New Jersey school bus driver allegedly sexually assaulted a 10-year-old girl riding his bus near the end of the route. The driver, 58-year-old Hugo Sandoval, allegedly told the girl's five-year-old brother to move to the back of the bus while he assaulted her in the front, reported NJ.com.
BEFORE YOU GO
PHOTO GALLERY
Teachers Behaving Badly: Student-Teacher Sex Scandals