The sun has (almost) set on Katie Holmes' marriage to Tom Cruise, cueing the dawn of a new day: Katie sans Tom. For all the insider dirt on Tom's "creepy" tendencies, Scientology influences and loads of other perturbing details, we feel like we hardly know Katie at all. Who is the "Dawson's Creek" actress outside of the paparazzo whirlwind? And what does she plan on doing now?
Dive headfirst into fashion, it would seem. Today Katie made her first appearance since her divorce from Cruise was announced, stepping out in New York City trailed by an army of paparazzi. The occasion? Filming an episode of "Project Runway All Stars,", according to TMZ, for which Katie will be a guest judge. Surrounded by a scrum of cameras, Holmes looked poised and put-together in a navy button-up dress, a sleek ponytail... and no wedding ring in sight.
While there's no word yet on when Katie's episode will air, we can only assume it will be one of her first on-air appearances in the wake of the divorce mania. Which gets us thinking about Katie's future -- specifically, her future in fashion.
With a small but respected clothing line to her name plus impossibly chic style of her own, Katie could easily establish herself as a fashion mini-mogul a la Nicole Richie, Jessica Simpson or Gwen Stefani. Like those women, Holmes is both high-ranking in Hollywood yet well-liked by tabloid-reading fans.
Or she could go the way of Victoria Beckham or Mary-Kate and Ashley Olsen, taking her intimate knowledge of designer wares and channeling it into a quiet yet respected luxury line beloved by the fashion elite (if not the masses).
With a savvy design team behind her, Katie is poised to take her appealing persona and massive celebrity and ride it to fashion superstardom, whether mainstream or niche. A guest-judging role on "Project Runway" wouldn't be a bad place to start in either case.
But is that what the enigmatic star wants? It's hard to tell. As her divorce unravels behind her, rumors and speculation trailing her like so many paparazzos, we're only beginning to reacquaint ourselves with Katie. But if she does decide to plunge into the world of Macy's collaborations, Fashion Week and TV design shows, well, we'll welcome her with open arms.
See Katie's first post-divorce appearance below.
PHOTOS: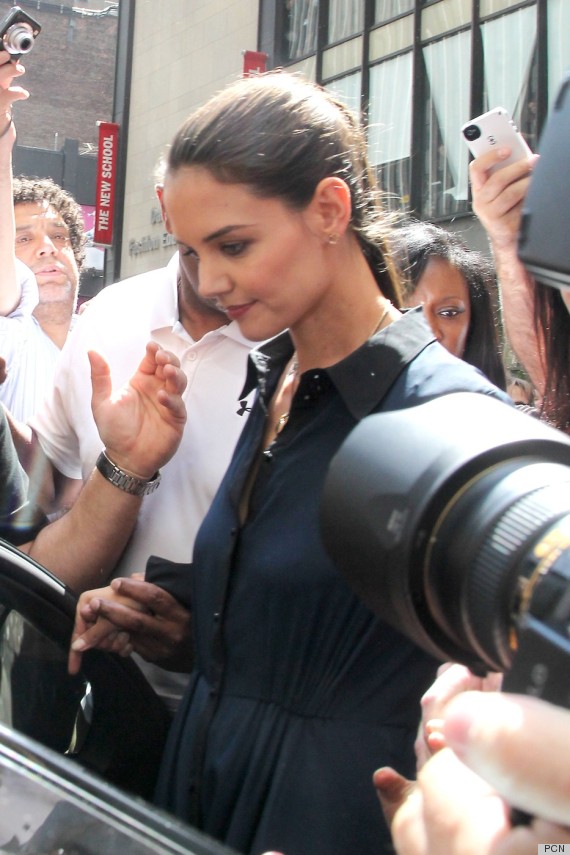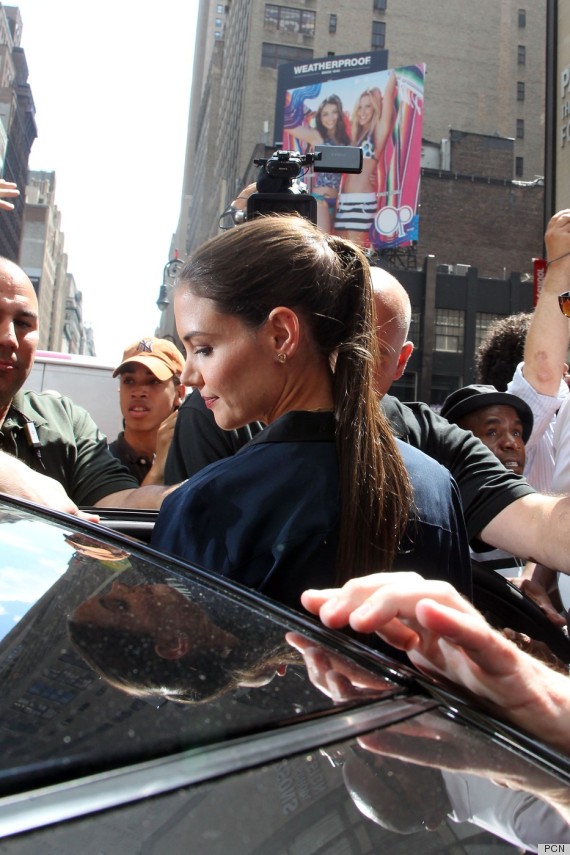 See how Katie's style changed over the years, from pre-marriage to wedded bliss:
PHOTO GALLERY
Katie Holmes' Style Evolution
Want more? Be sure to check out HuffPost Style on Twitter, Facebook, Tumblr and Pinterest.