Food Informants is a week-in-the-life series profiling fascinating people in the food world. We hope it will give you a first-hand look at the many different corners of the food industry. Know someone who would make a great Food Informant? Tell us why.
Anthony Butler has worked in the field of social service and community organizing for over 30 years. In Albany, New York, he was assistant director of a community outreach center that held a soup kitchen, a food pantry, eviction prevention and a large youth program. He then moved to North Carolina to work on migrant issues. Prior to his coming to St. John's Bread and Life, Butler was the Associate Executive Director at Brooklyn Community Housing and Services (BCHS). During this time he was an active affordable housing advocate chairing the Technology Committee for the Council on Homeless Policies and Services; was co-chair of the HMIS (Homeless Management information System) Group of the Continuum of Care Coalition. Butler has been active in homeless issues for the past 20 years particularly as they relate to technology's affect on services and housing.
In June of 2005, Butler took the position as Executive Director at St. John's Bread and Life. During his tenure there, he has worked to meet the growing need of emergency food in the community, provide those services with the greatest dignity and develop strategies to reduce individuals and families need for emergency food. In June of 2008, Bread and Life moved into a new $8,000,000 state-of-the-art facility; featuring expanded space, a digital choice food pantry, medical offices, a library, a non-denominational chapel, classroom, demonstration kitchen, and proper space to meet the increased demand of Bread and Life's guest, fully paperless data collection, and swipe card system for hot meals.
Throughout this, Bread and Life has grown to a $3,000,000 annual budget and has served over 500,000 meals annually. As part of Bread and Life's commitment to providing nutritious food, it has grown its partnership with the sustainable food community. Over the past two years Bread and Life has brought over $200,000 worth of sustainably grown New York State products into the community. It continues to partner with the Brooklyn and New York food community to address the issues of Hunger and poverty.
Read Anthony Butler's diary below to learn about how he feeds an ever-growing population.
Monday, June 18
9:00am: I took the day off to catch up on household chores. My wife Jeanne had knee replacement surgery, so I've been shuttling between work and the hospital for the last week. I took the morning to finish up the laundry and house cleaning.
10:00am: I took the bus with my shopping cart to go grocery shopping. Living in Brooklyn, I had to make the choice between a house and a car; I went with the house. This is my first trip to a new store. Our local Key Food is closing down -- another loss in NYC of a mid-size neighborhood supermarket. It will be replaced by a large Walgreens. My neighborhood, like most neighborhoods, doesn't need a large chain.
3:00pm: Off to St. Luke's Hospital to visit my wife. She is in rehab. Luckily I remembered to call before I came up because I'm required to fulfill the shopping list for she and her hospital roommate Carolyn. I've been very impressed with St. Luke's -- not just a beautiful part of the city, but staff are kind and very helpful, which really does speed the healing process. I hope this principle applies at Bread & Life as well.
7:00pm: I'm back in the neighborhood. I called ahead for Lambahjin pizza from our favorite local restaurant, Bedawi. It has a beautiful garden and great, affordable Jordanian food. Post-pizza, I strolled over to the ice cream store where my daughter is working (yet another Butler working in food service) to drop off her dinner. I'm pleased she has a summer job. I picked up a bottle of wine and I'm going to sit and relax in my favorite room of the house -- my garden.
Tuesday, June 19
7:45am: We are serving pancakes with blueberries at St. John's Bread and Life today. Seriously great smell as I enter work for the day. I'm still amazed and overwhelmed by the operation. Between our soup kitchen, mobile soup kitchen, and food pantry, we will serve over 2,200 meals today, which is typical. Amazing staff are here at 5:30 every morning. Enough reveling, I need get busy and work on that daily task of fund raising to pay for all this.
9:00am: Plowing through correspondence. So much of my work is to encourage people and institutions to participate and invest in this mission. We have amazing supporters of Bread & Life, though the downside of this job is the worry about money as I need to raise 3 million dollars a year in order to respond to the current hunger need here. The demand keeps growing. We continue to see a rise in the number of working families needing our services. Just scanned another article on the recent IPO of Facebook and the monies involved -- I can't help but think that things are out of whack.
10:00am: Just received a call from the Mayor Bloomberg's office. Looks like his visit is off. He was supposed to announce a new nutrition initiate. I hate doing prep work for nothing. Really is unfair to our guests too. Oh well, the vagaries of politics.
11:00am: I am reading the recent Wall Street Journal article featuring one of Bread & Life's board members Tom McInerney. It was an article on why he and his wife contributed to our replacement mobile soup kitchen and of their ongoing support of Bread & Life. The McInerney's are amazing and I am hoping their passion and commitment will rub off on some WSJ readers.
1:00pm: On a call with Charlie of American Custom Coach who is building our new mobile soup kitchen. It is being built in California. It is an amazing vehicle. Though for $200,000, it better be. The hope is to have in on the street in Brooklyn sometime in July. My partner in crime, Tom Fike, and I will have to travel to the left coast for final approval of the truck before it can be driven to New York.
1:30pm: Lunch in the soup kitchen. Chicken wraps today for the first time. I try to eat in the soup kitchen each day to keep a sense of the food and to remind myself why I do this. The quality of the food continues to improve and is something I am proud of as our meals needed to be spiced up. Our new chef's council -- an advisory board of chefs and food purveyors -- has really paid off. That, coupled with our new director of food services, has really allowed us to step up the flavor and variety of our menus. I complimented our cooks Kenny and Mabel on their work. It is a thrill that they are embracing this challenge of learning new skills.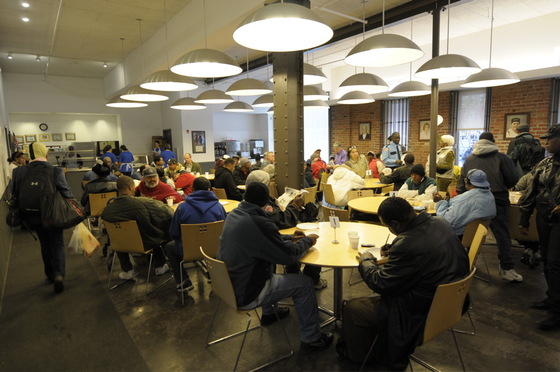 4:00pm: Call with my grant writer in California. We discussed a new initiative with Heritage Radio. This new endeavor will both create jobs and a product made of New York state grown produce that will provide tasty and nutritious meals to those with minimal cooking facilities. This is a major need in our community as New York City housing is as tight as ever. We have seen an increase in working individuals who are living in rooms or illegal boarding houses and only have a microwave to cook with.
4:30pm: Meeting with Christy Robb, my Director of Food Services, to see how we can increase the amount of NY State grown produce Bread & Life is using and distributing. We are schedule to spend about $250,000 this year, but would like to increase it significantly.
8:00pm: Meeting at church to meet with the new Music Director. I play guitar every Sunday at Mass. It is pleasant for me to share my talents and do something aesthetic. It was a lively meeting and I think there is going to be a bit of adjustment needed from all parties involved. I wish some things could be easier.
Wednesday, June 20
8:00am: Advocacy call with the Food Bank folks. Discussing the Farm Bill. Trying to forestall the cuts in food stamps. I am reminded of the previous major cuts in emergency food by the Reagan administration. Prior to these cuts, there were 16 emergency food providers in New York City; after the cuts, the need grew and there were soon 1600 (!) emergency food providers. Today, one in five New Yorkers use emergency food services. It was a spirited conversation. I am a little disappointed, as ever, that we, the emergency food providers, seem to be doing a better job responding to the problem rather than advocating and supporting solutions.
10:00am: Meeting with my IT director on the expansion of our digital food pantry. Our digital food pantry allows our guest to order food off a touch screen. It's pretty damn cool, considering. The system continues to work really well, considering. We're looking to expand to more providers.
2:00pm: Meeting to discuss our volunteer registration process and trying to make it more streamlined. Found out we had over 45,000 volunteer hours last year. This place couldn't survive without their hard work. They are an amazing group who run the gamut from students and those on community service to neighbors and retirees.
4:00pm: I am the hospital to see my wife. She's making real progress in rehab. We watched a video of her surgery together. It was totally surreal, but fascinating to see the technology of the knee replacement.
6:30pm: I am at The White Box in Soho with the mobile soup kitchen staff for a reception for the Victor J Papenek Awards. Kristina Drury of Tythe Designs, who is our designer for our new MSK, was a finalist for her work with us. Though it is an honor to be displayed in such company, it is a penance to be here; it's the hottest day of the year so far and the place has no air conditioning. Stepped outside and discovered that at 98 degrees it is, somehow, still cooler out here.
8:30pm: Sitting in the cool of the garden. What a luxury to have a garden and a house in Brooklyn. So grateful.
Thursday, June 21
8:00am: Today is the "A Slice of Hope" pizza party. I still can't believe Obaid Kadwani and his charity Eyeblink have been doing this for us for six years. He has been able to get Domino's to partner with him and is now in more than 20 states providing a pizza party and entertainment to shelters and soup kitchens. Love the name as hope is a part of what we do. Reminded on these days that without hope not much gets done or changed.
11:00am: Pizza party for our soup kitchen guests is going strong. Lots of Domino's pizza. This is the first year they have sent some of their staff to help. 200 pizzas that will be served in our dining room and on our mobile soup kitchen. We have a talented, eclectic, cellist for entertainment this year. Plus Obaid is just about the handsomest man anyone here has ever seen. It's painful, really. People are really enjoying the day.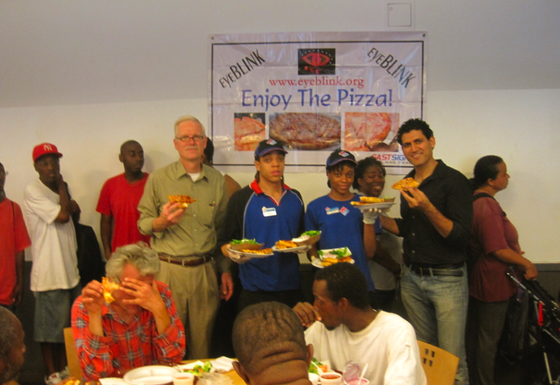 5:30pm: I am at the hospital again. My wife will be out of rehab tomorrow. Looking forward to having her home.
Friday, June 22
8:00am: Squeezing in several phone calls and a meeting with a farmer before 10am. I just found out my wife is being discharged at 11:00am, not at 3:00pm as had been planned. It makes for a rushed morning.
12:00pm: I am taking my wife home. It is fun as my assistant let me borrow her car and it is convertible. My wife is already walking around and able to come down from rehab without a wheelchair. She's a real hustler. The doctors are amazed and pleased at the speed of her recovery.
1:30pm: Get home and find the tube to the icemaker has sprung a leak. Never a dull movement really. Got the patient settled in now off to Lowes to get the part to repair the cause of this flood.
6:30pm: Playing gat at Mass for the opening of the newly combined Catholic Academy. I was in at the beginning stages of this merger. Though it is an exciting time, a major change like this -- the closing of two schools to make one -- is always bittersweet. Great cookout afterwards in the school yard. The hamburgers and cold beer hit the spot.
See previous Food Informants below: