Got a success story of your own? Send it to us at success.stories@huffingtonpost.com and you could be featured on the site!
Name: Ryan Norton
Age: 38
Height: 5'10"
Before Weight: 305 pounds
How I Gained It: I used to be pretty fit, a U.S. Marine to be exact. I ran triathlons, loved cycling and was generally in pretty good shape. I never considered myself a fitness buff, but I did okay. After the birth of our daughter, I began working out less so I could help my wife take care of her. I also started traveling for business more, eating out and drinking more than I probably should have. I stopped my daily workout routine and the pounds started piling on. I justified it by telling myself that I would get back into it, and that I would be able to shed the pounds in no time.
Soon, I found myself at around 300 pounds and everyone would comment about my weight. I was wearing XXXL shirts, and I was embarrassed. A pulmonary embolism didn't deter me, I kept eating and not exercising. I would tell people I felt fine, and so I must be fine. I even did a few races just to prove that I was okay, but the truth is, I wasn't. I hated how I looked, how I felt and everything was suffering as a part of it. My relationship with my wife and family, my work, my stress levels and most importantly my health suffered. I had triglycerides of over 500, my blood pressure was high, my cholesterol and thyroid were way off, and I was on a number of medications. Too many for a 38-year-old guy.

Breaking Point: My wife kept telling me that she was worried. My doctors would warn me about diabetes and other health risks. But for me, it was my USMC buddies challenging me to do a race called the Tough Mudder. I knew it from articles I had read and I knew it was hard. They said, "We are doing this, and you are joining us, period." I knew that they knew me when I was fit, and for some reason, that made me want to lose the weight so I wouldn't embarrass myself. Setting that goal and giving myself just enough time to get ready so that I couldn't put it off, got me going.
How I Lost It: There were several contributing factors. My wife told me she would support me and help me any way she could. That meant the world to me because she is a marathon runner and tri-athlete who needed her own training time. She really motivated me. Then my family did a "Biggest Loser"-style challenge for some good prize money. We all put in some funds and had to report weekly how much weight we had lost, and how long we had worked out. This went to everyone in the contest, so there was motivation to get to work.
Then my wife shared with me the story of a trainer who was keeping a blog called fit2fat2fit. He was making himself fat on purpose to see how hard it is for us heavy folks to get back to fit. I was extremely inspired by the story, and I tried to work out with his routine as often as I could. I started logging everything I ate into an app called myfitnesspal and made sure all of my friends could see my progress in order to keep me going.
I did a number of different workouts. I tried the Insanity work out, I ran, I biked, I did something called Kisado, and I moved as often as I could. I would even park as far away as I could from a door just to get more walking in. At airports I would walk around between flights. And on the road, I set limits for myself and stuck to them no matter how hard. I always gave myself one cheat day, where I could eat whatever I wanted, so I wouldn't feel deprived. I have dropped 74 pounds since January 15, 2012. It took me being honest with myself, understanding that it wasn't going to be easy and that there would be times where I would have to pass on things I wanted. That was the hardest part.
I can't even count all the ways my life is better now. My wife and I are happier, and we run together now. I am helping her and pushing her as much as she helps me and pushes me. I ran a half marathon, did the Tough Mudder with my Marine friends and my wife and some family, I just ran the Garden of the Gods 10 mile run in Colorado Springs and I shaved 45 minutes off of my time from two years ago. I am signed up for a 100-mile bike ride, and my wife is slowly talking me into trying a full marathon in September. All of my medications are gone now, saving me $65 a month. All of my blood results are in the normal range. People ask me for advice on how they can do it too. My kids and I play more, my wife and I are more active, and my stress is dramatically reduced. I am doing better at work, and most importantly, I am making time for me. Putting myself first really helped.
After Weight: 231 pounds and still dropping. I'm shooting for my weight when I was in the Marines of 210 pounds.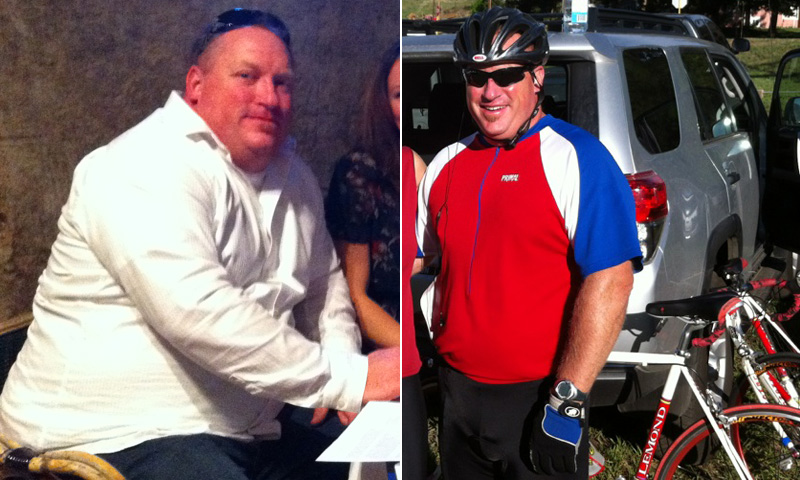 Check out more of our inspiring weight loss stories below:
For more on weight loss, click here.