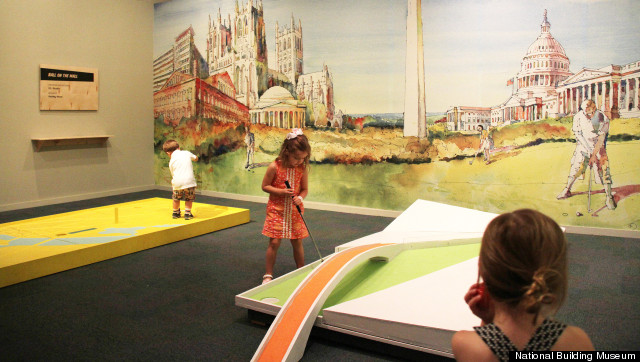 WASHINGTON -- It's too hot to spend any time outside and have fun. Luckily there's inside fun to be had.
The National Building Museum is in the midst of their 'Summer at the Museum' series, special programming bringing in the residents and tourists to learn about architecture, play some games and cool off in the air conditioning.
One popular program at the Museum is their brand new mini-golf course. Opened earlier this week and available until September 3, the course was designed by Washington area based architects, landscape architects, and contractors at the top of their field. A handful of the designs can be viewed on the National Building Museum site -- and we've got some action shots for you to check out, too:
PHOTO GALLERY
Mini-Golf at the National Building Museum
In addition to shooting a round on the miniature links, the course will be judged by a jury of design experts for a Best In Show title and a People's Choice award will be given to the most popular hole.
'Mini-Golf Inside the Museum' runs until September 3. More information about Museum and other programs including Quilt in the Capital 2012, Architecture 101, LEGO Architecture: Towering Ambition, Sunday Concerts and more can be found on the Museum site.
BEFORE YOU GO