Jenny Saville is one of the most captivating painters of human flesh. Whether taking on a fair-skinned child, a burn victim or a corpse she renders her subjects with unflinching intensity. Her paintings are tender, not as in tender feelings but more like tender meat. Her exhibition at the Modern Art Oxford traces Saville's development over the past 20 years, leading her to become one of the world's leading contemporary painters.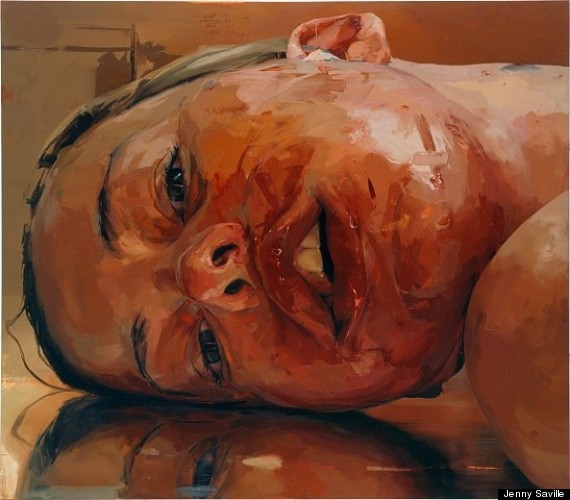 Saville was born in Cambridge in 1970. She recounted to The Guardian's Rachel Cooke being hypnotized, at 6 years old, by the image of her piano teacher's thighs would rub together during lessons: "I was fascinated by the way her two breasts would become one, the way her fat moved, the way it hung on the back of her arms." Her childhood curiosity and creativity were fostered from a young age and eventually attended the prestigious Glasgow School of Art.
Yet it was during a scholarship stint at Cincinatti University when Saville was became fascinated by flesh in its fullest forms. Inspired by obese women in the Cincinatti shopping malls, Saville painted a collection which caught the eye of taste curator Charles Saatchi. Saville was only 22 when she showed in Saatchi's Young British Artists, joining the ranks of big shots like Damien Hirst. Throughout the years here work has evolved to confront plastic surgery patients, the morbidly obese, blind models and her interpretation of Leonardo Da Vinci's Virgin and Child.
One thing that remains consistent throughout Saville's work is skin, skin and more skin. Yet a glimpse into Saville's world of flesh looks more like peeking into a butcher window than a Playboy magazine. Her works clearly could not be further away from the idealized male views of the female form, but they inhabit a strange and undefinable realm between pride and grotesqueness. It feels as if Saville is the lovechild of Willem de Kooning's violent misogyny and Lucian Freud's carnal hunger who, somehow, popped out as kind of a feminist.
This exhibition is Saville's first solo exhibition in a UK public gallery at the Modern Art Oxford, and is exhibiton concurrently at the Ashmolean. The exhibition will show until September 16, 2012.
See her work below:
PHOTO GALLERY
Jenny Saville
BEFORE YOU GO