By Vanessa Quirk
Click here for the original article on ArchDaily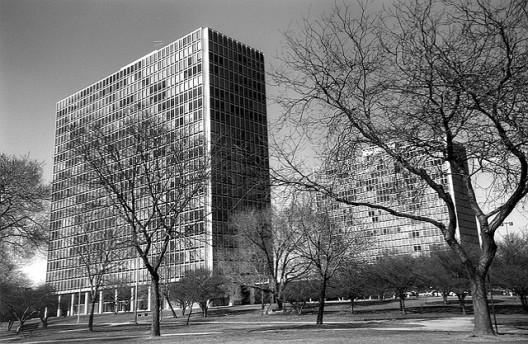 Lafayette Park (1946) Ludwig Mies van der Rohe. Photo via Flickr CC User MI SHPO.
No architectural gem is safe from Detroit's foreclosure crisis – not even two of Mies Van der Rohe's very own creations. The Lafayette Towers, two 22-story towers of 584 units, originally part of a major urban redevelopment project in the late 50s early 60s, are up for auction July 18th.
But be warned, there is a catch…
The Department of Housing and Urban Development (HUD), who are running the auction, have some very detailed clauses for the Towers' future owners. $10 million dollars worth of clauses, to be exact.
Within 18 months, the owners must complete a laundry list of reparations (including replacing bathtubs and installing peepholes). And to make sure you're on-task, HUD will require you to send quarterly progress reports (with pictures of course) and put down $2.5 million dollars as a kind of deposit.
As ArtInfo puts it, "HUD's comprehensive list of repairs is a fine print nightmare for developers but a blessing for Mies's 1960s-era architecture." Perhaps this foreclosure may just be a blessing in disguise.
Story via ArtInfo, Curbed Detroit, Archinect