This week we brought you another batch of must-follow Pinterest accounts. (Want to be in the running for next week's list? Just click 'Send Us A Tip' at the bottom of this post with your account's URL.) Now, we bring you one of the most popularly-pinned crafts that's all about summer fun -- an easy DIY lava lamp that the whole family will love to make. Take a peek at this psychedelic project from S.L. Smith Photography: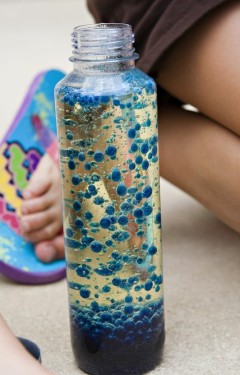 Photo by Stephanie from S.L. Smith Photography.
It's no wonder why this idea has been repinned thousands of times on Pinterest. This lava lamp isn't just a low-cost way to keep kids occupied, but it's also a really cool ideaIt can be crafted with just some water, a bottle, food coloring, vegetable oil and Alka-Seltzer.
Add those ingredients together and just like magic you have a groovy lamp that can be customized depending on your choice of food coloring. We particularly love that bold blue! So head over to S.L. Smith Photography for a full tutorial for this lava lamp and other great crafts!
Have something to say? Be sure to check out Stylelist Home on Twitter, Facebook and Pinterest.