Rome wasn't built in a day, and neither was the ark in Darren Aronofsky's "Noah."
The acclaimed director's massive biblical epic is scheduled for release on March 28, 2014, which gives set designers plenty of time to finish work on Noah's gigantic vessel. Aronofsky tweeted a picture of the progress on Wednesday.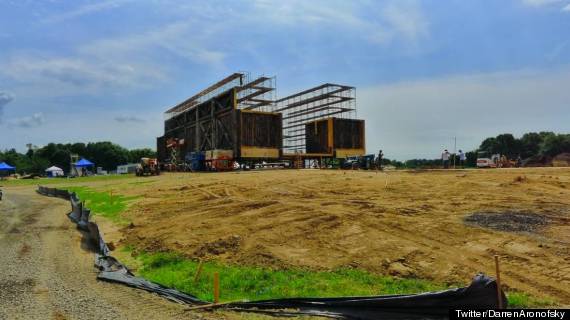 "Make thee an ark of gopher wood," reads Genesis 6:14, "with rooms shalt thou make the ark, and shalt pitch it within and without with pitch."
This has been a busy week for Aronofsky. On Monday, the director tweeted that Sir Anthony Hopkins had joined the cast of "Noah" in the role of Methusaleh, Noah's 900-year-old father. According to HitFix writer Drew McWeeny, Methusaleh only has three scenes in the "Noah" script, but they are very important to the story; to even see his father, Noah must travel past the Watchers, "eleven-foot-tall fallen angels with six arms and no wings."
Needless to say, this isn't your 900-year-old father's biblical retelling of Noah's Ark.
Russell Crowe stars as Noah in "Noah," with Hopkins, Ray Winstone, Jennifer Connelly, Logan Lerman and Emma Watson providing support.

BEFORE YOU GO
PHOTO GALLERY
Controversial Films About Jesus