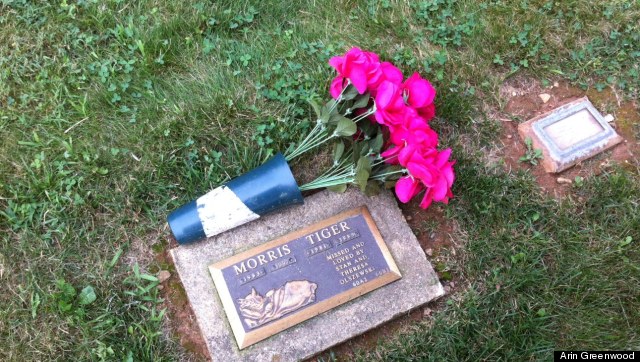 FREDERICK, Md. -- For as much as we love our pets -- and if industry data tells us anything, it's that we really love our pets -- there are not very many cemeteries where a person can be buried with her German Shepherd.
"The closest one I found was Georgia," says Heidi Elmore, on a sunny Tuesday afternoon. And even that one buries pets in a separate area from humans, not side by side, she says.
Elmore works for Resthaven Memorial Gardens, about an hour from the nation's capital, where a soon-to-open "Garden of Faithful Companions" will allow pets and their people to rest together for all eternity.
"People desperately want to be with their pets," says Elmore. "We've got grandmothers, great-grandmothers, great-grandfathers and children buried here. And there's no reason we shouldn't have pet family members buried here, too."
While there are hundreds of pet cemeteries across the U.S., for a variety of reasons -- regulatory and otherwise -- not many graveyards of the human or pet variety now allow comingling. (People are buried alongside their pets in the oldest pet cemetery in the world, founded in 1896 in New York. The state tried to stop that practice for a time but that ban didn't last long in the face of lawsuits.)
Resthaven, which Richard Cody opened with his father in 1961, is already receptive to working with animals. The cemetery hosted a Catholic ceremony for a beloved cat in Resthaven's chapel, where Richard's son Skkot Cody is funeral director. A dog from Potomac, Md., was buried with a Jewish ceremony in Resthaven's pet cemetery, Pethaven (est. 1974), which is the final resting place for what Richard estimates are a "few hundred" animals, including dogs, cats, squirrels, bearded dragon and a goat. Their graves are marked, some with brass-and-granite plaques bearing the animals' names, their birth and death dates, and heartfelt messages. Many of the the graves have flowers. Frankly, it's hard not to tear up.
PHOTO GALLERY
BEFORE YOU GO
Garden of Faithful Companions
PHOTO GALLERY
Garden of Faithful Companions
"These are the most visited graves in the cemetery," says Skkot, who wants to be buried -- when the time comes -- with his pet snake, "in a little snakey urn."
"They have those," says Elmore. And in fact they do.
While the human funeral industry is shrinking, the pet funeral industry appears increasingly robust. There is a fair amount of cynicism about that. Take, for example, Alternet's recent piece called "Why the Rich Are Sending Pets on a Diamond-Studded Trip to the Afterlife," which traces the rise of the pet "aftercare" industry in the past decade and concludes:
Emotion-driven humans are prone to perpetual folly. And capitalists, it seems, are everlastingly ready to take advantage of them. Greed, alas, springs eternal.
Richard says he is developing the Garden of Faithful Companions, on part of a 45-acre parcel just across the four-lane highway from Resthaven's current property, because customers -- not just local to Frederick, but from the Beltway and beyond -- are asking for this option.
"Over the years we had a number of pet lovers who said, 'Why can't I be buried with my pet?'" he told the Gazette.
"I already have an inquiry from, just a friend of mine, in New York," says Elmore. "She's part of the scene that has essentially pets as children. They don't want kids. They don't have money for kids."
Landscaping is underway for the Garden of Faithful Companions, which could accept its first burials as soon as a few months from now. Prices for the plots are yet being determined. From a preliminary pricing sheet, they will likely range from just more than $2,000 for an option that would hold one cremated person and one cremated pet, to nearly $40,000 for a "family option" with an expensive grave marker and room for multiple humans and multiple pets.
There's a "price advantage to buying now," says Skkot, walking over the grass. "The price is only going to go up later."