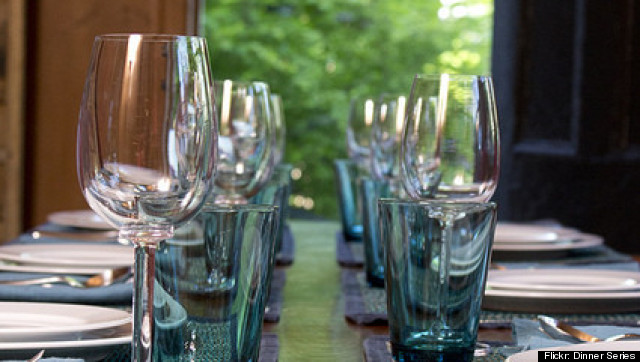 One of our favorite things about food (forgive us, we know we say this all the time) is how it brings people together. But, what about those times when getting together feels incredibly stressful?
There comes a time in every cook's life when their significant other turns to them and says, "So, my parents are coming over for dinner." First of all, don't panic. As intimidating as they can sometimes be, parents are just people who probably have their own cooking nerves and idiosyncrasies, too. You're going to be great.
We know you want to be impressive. We know you want the food to look great, taste even better and for the conversation to flow effortlessly. But, we also know that you are probably very busy and that you want to keep your sanity. Which is why we've put together an in-law-entertaining menu full of showstoppers that are easy to prepare in advance, to help you keep your cool. Oh, also it includes two cocktails, because that is just how we like to entertain people.
A few essentials to keep in mind:
Cocktails are a great way to make people a) hungry and b) relaxed.
Do everything that you can ahead of time, so you barely have to lift a finger once company arrives. This way, when they say, "Oh, [chosen sweetheart of our precious child], this must have taken you FOREVER," you can insist that it was no big deal and not even be lying.
If you are in the weeds, don't be afraid to ask for help! A host/ess having a melt-down is endearing to no one. (Also, if one of your in-laws offers to chop things/carry things/pour things, say yes. People love to feel useful.)
If you use a little too much salt or the cake is not quite as fluffy as you wanted it to be, no one is going to die. It's just dinner!
Now, let's talk menu. And don't forget -- they're going to love you.
We want to help you figure out what to eat next! Need to know What To Eat When A Vegetarian Comes To Dinner? What about What To Eat When You Have A Cold? Submit a tip, let us know in the comments, or tweet @HuffPostTaste and we'll pull it all together for you!