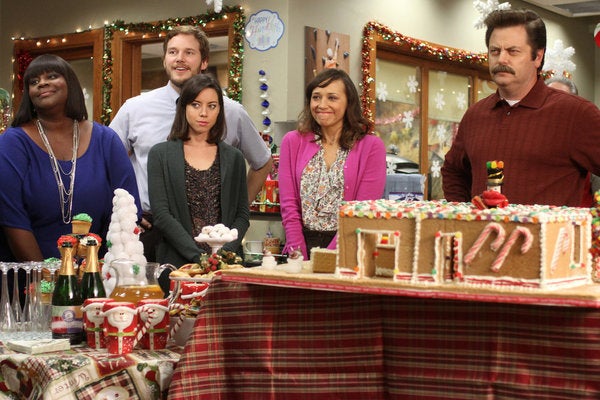 Nick Offerman shares some similarities to his "Parks & Recreation" character, Ron Swanson, but the two are not quite mirror images. In a new interview with the AV Club, Offerman said all of the characters on NBC's "Parks & Recreation" have slices of their actors' personalities.

"I've seen a lot of reactions from people where they say, 'Ron Swanson is Nick Offerman, and Nick Offerman is Ron Swanson,' and I feel like the opinion you just expressed is, more than anything, a well-earned commendation to our writers," he said when asked about the blending of personality between characters and actors. "I think in the case of me and Aubrey Plaza and Chris Pratt and Amy [Poehler], our characters take a slice of our personalities -- and not even a very big slice -- and really expound upon it, really capitalize on it.
"I think it's interesting that our fans seem to really want us to be the same as our characters," Offerman went on. "But I think our writers are so good that everyone gets the impression that there's no differentiation between us and our people."
Offerman said he saw a similar experience when his wife, Megan Mullally, starred on "Will & Grace" as Karen Walker. "I went through the whole 'Will & Grace' experience with my wife and saw how the public reacted to her work and then to her as a person," he said. "And that whole experience happened before the Internet became so incredibly ubiquitous. The way Ron Swanson has taken off online, we feel like Karen Walker probably would've had a really similar reaction from the online community. It just happened right before the crazy Internet takeover."
Season 5 of "Parks & Recreation" kicks off on Thurs., Sept. 20.
BEFORE YOU GO