The New York City Department of Education recently released the results of its annual Learning Environment Survey, with "smaller class size" once again topping the list of changes parents would most like to see to their children's schools.
Since the survey was first administered five years ago, class size has repeatedly been ranked as the No. 1 desired improvement by parents, out of 10 possible options. This year, 23 percent of survey-takers responded in favor of decreasing class size, followed by "more or better enrichment programs" at 16 percent, and "more hands-on learning" and "more preparation for state tests" at 14 percent.

But for the first time, those results omitted from the DOE's summary slide presentation. By comparison, last year's summary slide for the question regarding desired improvments featured a breakdown of the survey replies since 2009, as shown in bar graph form: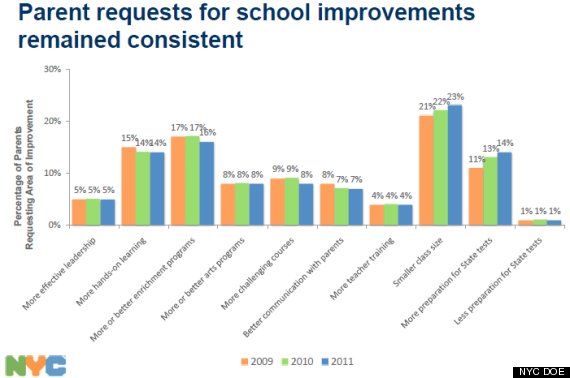 Furthermore, during a press conference in 2007 -- the first year of the survey -- Mayor Michael Bloomberg seemingly downplayed the preference of parents for smaller classes in his presentation by lumping the answers of four different options into one category labeled "program enhancements."
"When somebody stands up and says, 'I speak for all parents and we want smaller class sizes,' that's just not true," Bloomberg said at the 2007 conference, the New York Times reports.
Meanwhile, Leonie Haimson of advocacy group Class Size Matters said the survey suggested the opposite conclusion: "It's a transparent attempt to minimize the importance of an issue that is staring everybody in the face as the top priority of parents," she said, according to the Times.
Since 2007, New York City has insisted principals cut budgets by 13.7 percent in an effort to combat rising public school expenses and a struggling economy. Budget cuts in turn force teacher firings, which contribute to growing class sizes.
According to the Center on Budget and Policy Priorities, 34 states have decreased their K-12 education budgets since 2008. Furthermore, ensuring class sizes don't explode nationwide would cost $10 billion annually, according to a March report from the Southern Regional Educational Board.
At the beginning of this school year, the New York City-based United Federation of Teachers released a study of 900 schools that showed 61 percent of middle schools and 59 percent of high schools increased the size of their classes.