FriendsWithYou artists Samuel Borkson and Arturo Sandoval III have debuted their short film, "Cloudy," on Pharrel Williams' new "i am OTHER" YouTube channel. Filled with bouncing cloud characters and a dreamy, lyric-less theme song, the animation is an oddly peaceful viewing experience typical of the art duo's whimsical style, which evokes Takashi Murakami's colorful work.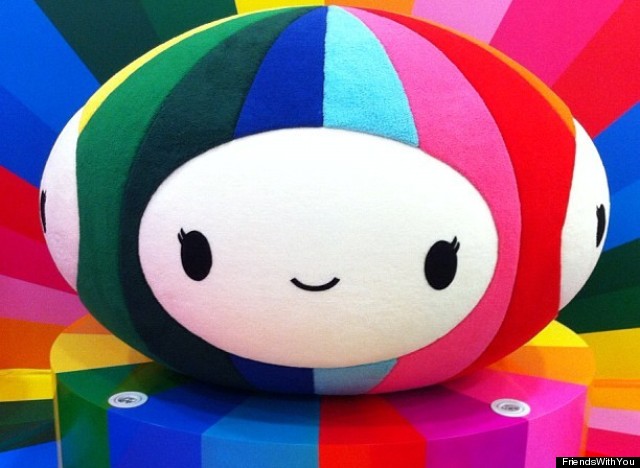 The quirky short watches like a pleasantly endless introductory animation to a video game aimed at teaching infants how to understand weather patterns. The first minute features an adorable chorus of singing clouds of all different sizes blinking their somewhat frightening eyes and harmonizing their high pitched "la-la-las." It then zooms out to show a cloud making factory. Inside are the tiny cloud characters as well as some pointy-hatted rain drop fellows, who seem to be in charge of the factory and the creation of the tiny cloud babies. As the rain drop men continue to work hard at the factory, pumping out their cloud companions, the fluffy white creations continue chirping, blinking, and floating through space, later accompanied by some white music notes, clock gears and eerie pill-shaped figures.
Just when you think the wholesome fun could never end, the raindrops start committing what looks like lemming-style plunges, jumping to their rain drop ends to fulfill what we can only imagine was their intended rain drop destiny. The film ends with the happy drops plummeting from the clouds, holding hands as they drift into the sky blue abyss. As the video's caption states, the peaceful drops joyfully perform their duties to "show us that everything in our world has a role and a purpose."
The film is four parts delightful and one part eerily doomsday-esque, with the clouds' hollow black eyes and the raindrops' all-too-willing jumps haunting your thoughts as you continue to "la-la-la" hours after the six minute animation. If you need some reassurance that the artists' aren't attempting to infiltrate your nightmares, FriendsWithYou's recent exhibit in Hong Kong, "Happy Rainbow," proves that the two artists' intentions are pure, seeking only to use their own brand of anime pop to induce joy in all viewers. After all, they did trademark the phrase "Magic, Luck, and Friendship." (No, we're not joking.)
Check out images from FWY's exhibit "Happy Rainbows" in the slideshow below. The exhibit is on view at Tuen Mun Town Plaza Phase 1 in Hong Kong until September 2, 2012.
PHOTO GALLERY
FriendsWithYou's "Happy Rainbow"
BEFORE YOU GO