We're accustomed to seeing Tia Williams, Shake Your Beauty editor and co-founder of The Fly Cut, all glammed up and showing us how to properly rock the latest and greatest beauty products. So, you can only imagine our shock (and concern) when we saw pictures Williams posted of herself with wires coming out of her head. Yes, wires!
Williams, who's known for her smart, funny and tell-it-like-it-is writing, opened up on her blog about her lifelong struggle with debilitating migraines and the drastic procedure she is undergoing to help fight them (this is where the wires come in).
After a recent string of hospitalizations due to her migraine condition, Williams decided to opt for a surgery called a Neuro Transmitter Implant that is only offered to people who experience the highest levels of pain.
As she explained, the doctor implanted "tiny electro-vibrating thingies" in her head, which distract the brain from pain by giving off various levels of stimulation. The small "neuro-transmitters" are placed under the skin at the temples and back of the head and control via remote control. "It's like programming a massage chair," she quips.
Needless to say, it makes the beauty expert look a bit other-worldly--which explains why she had deemed herself "Bionic Woman."
And being bionic comes with it's own set of challenges. Although Williams green-lighted the month-long trial, she hasn't lost her flare for looking and feeling good. While she misses the "pretty girl" stares from men, she added that there are "blood-encrusted wires taped down to the sides of her face, all of which connect to a fist-sized generator perched on one shoulder, held in place with a mountain of gauze."
Her marvelous mane has also been affected. Williams had to shave a patch of her transitioning natural hair in order to undergo the procedure. Oy! You know how we feel about our hair, ladies.
Here's the funny and oh-so-honest conversation Williams recalls having with her doctor about her more, um, vain concerns:
Williams: You didn't tell me I'd look like a Transformer.
Doctor: It's all for the greater good.
Williams: You also didn't tell me you'd shave a chunk of my hair in the back. I'm transitioning, I need to be able to rock a topknot.
Doctor: Transitioning?
Williams: Sigh.
Doctor: It's very important that the wires remain dry. No showers, no sweating.
Williams: It's 100 degrees.
Doctor: Think cool thoughts.
It's great to see Williams is handling the situation with both strength and humor--no small feat. Monday marked the end of her month long trail. Williams says the implant worked and that she hasn't felt this great in ages! The real-deal surgery is scheduled for next month.

Here's a look at Williams brave procedure photos--and read the entire inspiring story HERE.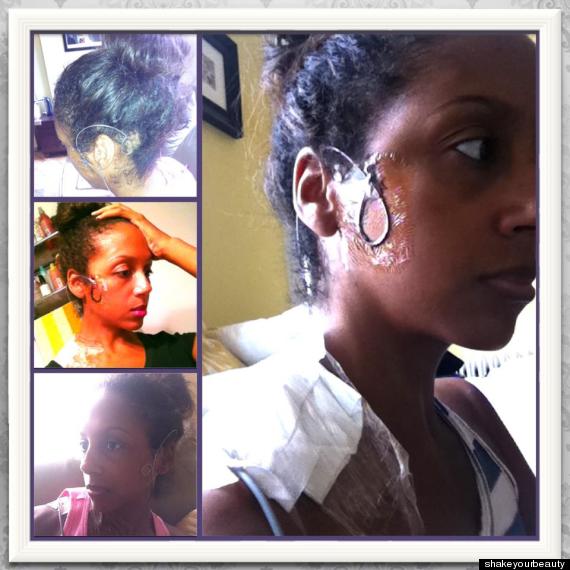 BEFORE YOU GO
PHOTO GALLERY
Celebs Who Struggle With Migraines