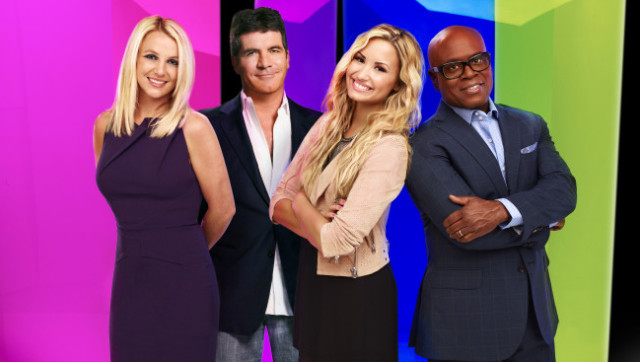 Few shows can stay a permanent fixture in the headlines even while they're off air, but "The X Factor" rumor-mill has been churning non-stop since the singing competition was renewed for a second season. First came the abrupt departures of Paula Abdul, Nicole Scherzinger and host Steve Jones, then the hunt for replacement judges in Britney Spears and Demi Lovato, and more recently, reports of Spears' allegedly erratic behavior during filming.
The judges and executive producers had a chance to lay the rumors to rest when they made an appearance (via satellite) at the Television Critics Association Summer Press Tour on July 23, giving journalists an opportunity to see their chemistry firsthand -- even while they were on location in Miami, filming the boot camp round of auditions.
Returning judges Simon Cowell and L.A. Reid were joined by newcomers Spears and Lovato, as well as executive producers Andrew Llinares and Rob Wade for the Q & A, and we've rounded up the highlights of the panel below.
1. Spears and Lovato bring different things to the table ...
When asked to explain what the two new judges add to the show, Cowell was typically effusive with his praise: "I always said the number one person I always wanted on one of these shows was Britney because I was fascinated with her as a person and as a pop star -- there's something intriguing about her. I didn't know her as a person, and I thought it would be interesting to have her on one of these shows so you see another side of her. She's a really, really good judge. Demi ... is a brat."
After letting Lovato have her moment of outrage, he added, "But there's something really likeable about her as well. And I think the show, because it has such a young audience, it needed someone younger -- because I'm in my 30s."
"Add about 100," Lovato interjected, demonstrating some of the banter that obviously features regularly in their interactions.
Cowell did add that Spears is "quite mean" as a judge, then elaborated, "They are harder to please than me or L.A. They're very, very happy, these two people, giving people 'no.' They've definitely got their own opinions, but that's why we hired them. The fact that [Britney's] been successful for so many years is a testament to her star power, and Demi, I've thought for the last couple years is one of the hottest new artists around at the moment. So I have to, unfortunately, agree with them some of the time."
2. The hosting job will evolve from last season
"The plan [is] to have a boy and a girl," Cowell confirmed. "We would all like someone, who maybe hasn't been a host before. I think there's a different role on this show going forward, as we've learned over the years making it. Andrew and Rob are screen-testing some people in the next three to four weeks. So we should make an announcement around the middle of August."
3. There's no stability for judges on talent competitions
When asked how much job security the new judges have, given Abdul and Scherzinger's unceremonious exits, Cowell admitted, "Not much. No one has any job security really anymore, including myself. I mean, you're in the hands of the audience who watch the shows. We've always made a point of changing the shows whenever we think it's necessary. And for certain reasons we thought, even though the girls did a great job last year, that we just needed a change, and we were learning as we went along last year. But I don't envision this changing for a while. We all seem to be getting along really well. The panel works. The girls seem happy. I've got my buddy L.A. back, so we're having a good time."
4. The judges are a little more optimistic about the groups than last year
"I think we're seeing some really special talent, as a matter of fact," Reid enthused. "I don't know how we compare it to last year's. It may just be too soon to tell. We're in boot camp, so we're starting to really zero in on what we have now. It's tough to really give it definition, but I can say that we've seen some really amazing talent."
"Luckily the groups are better this year," Cowell agreed. "Maybe it's off the back of the year One Direction have had, and it's just proven that groups can sell records all over the world. There's one group in particular who I really, really like. I wouldn't rule out if we felt it was necessary to put a group together. As L.A. said, we've literally just done the first two hours of the boot camp session in Miami. You go through a lot of the dross, let me tell you, at this stage. But somebody came on maybe 20 minutes ago, who I think you're going to be hearing a lot about; a huge, huge star, and they're a country artist, and we haven't had a good country singer yet on 'X Factor.'"
5. There will be special guests
Last year, each of the judge-mentors brought in a friend or colleague from the industry to help them evaluate their potential contestants, and Cowell confirmed that the practice would continue this season.
"I think so. We are making some changes editorially to the show and the look of the show, so it does feel different, not just to last year, but against the competition, because there's an awful lot of competition we've got to fight against this year," he said. "So this show will evolve, and a lot of it we make up, literally, on a daily basis, but I think you will be seeing some guest stars along the way. Obviously at the home visits, each of us will have somebody with us either from movies or the music business who we'll all know."
6. Cowell still feels the pressure to find a superstar
One critic asked why British competition shows can produce blockbuster talents like One Direction while the U.S. series have struggled to find a breakout artist, specifically questioning whether Cowell felt the pressure to produce such a star. Cowell was characteristically blunt in his response: "Yes, I do feel pressure to do it. And I put myself under pressure. We all do. If I was making a show and I didn't believe that we could find a worldwide-selling artist at the end of it, genuinely, I wouldn't bother making this. I brought the show to America because I think the best singers in the world historically are American. Britain's got its fair share as well, but some of the greatest singers ever -- whether you're talking about Whitney or Mariah, Aretha Franklin -- that's the legacy here. So I go into this, and I put myself under an awful lot of pressure. But what happened 20 minutes ago when I hear the emergence of a star is the reason I make these shows. I think One Direction has proved that we're back into a kind of pop market again, and I think it's healthy for the recording industry."
7. They aren't worried about potential baseball preemptions
Last season, the series was often subject to delays because of baseball, but the producers aren't too concerned about their timeslot this season.
"We're working through the schedule at the moment," said EP Rob Wade. "I think where it falls at the moment works for us quite nicely in the way the show runs through auditions to boot camp to judges' homes, and then baseball comes in, and then we have the live shows. So from our point of view, it actually kind of works within our runways at the moment, and, we're starting a little bit earlier this year, which is great. We're pretty happy with the schedule."
8. They think the music industry is as healthy as it's ever been
In a previous panel, record executive David Geffen was quoted as saying that if he was still in the music business today, he would kill himself, so a critic asked the panel for their reactions to that statement.
"We've had a good year, actually," Cowell pointed out. "Through L.A., we're just breaking an artist, [U.K. "X Factor" contestant] Cher Lloyd in America; One Direction will be the biggest selling group this year. So off the back of these shows, we found a way of making the music business work for us, and that's why we did this in the first place. I take David's point, though. I wouldn't want to just be running a record label in the traditional way anymore. We've just got to find a different business model now, and that's what we're doing at the moment."
Reid agreed, "I think the record business is creatively as healthy as it's ever been. Yes, the business landscape has changed, but not only for music, for all content businesses, all creative businesses. But the music is amazing, whether it be One Direction or if it's Justin Bieber or Cher Lloyd who's breaking out like you said, I think that the music and the creativity is at an all time high."
9. They have a strategy to keep ahead of the competition
With an overabundance of singing competitions currently on air, the executive producers are under more pressure to ensure their show stays fresh, but Wade and Llinares aren't too concerned about their rivals.
"We're looking at a lot of the filming we're doing behind the scenes, the contestants in the auditions, the reality element to the show, and we're trying to make that really exciting this time in a very different way," Llinares said. "I think that's something to look forward to. But we really pull the show apart in minute detail, and hopefully there will be some little surprises along the way. I think the show is a very emotional experience for these contestants, and we want to do everything we can to keep that emotion fresh with the audience so that, when people watch it, they really connect with these people. They really get involved in their stories, their characters, and you know, they watch the show with their heart, in a way."
"Plus, we've got, honestly, just a great format," Wade pointed out. "We have a very distinct format, and if we keep to that format, I think that gives us the differentiation we need. And that's a really important thing to remember as well. There's a lot of cop shows out there, dramas, in the TV landscape. Yeah, there are a few other singing competitions, but there's enough room for all of us."
10. Lovato thinks the contestants can handle the price of fame
A critic pointed to Lovato's self-imposed break from the industry to enter rehab in 2010 as evidence that fame can put a lot of pressure on a person, but Lovato insisted that it wasn't her success that drove her to seek help.
"I think that you can't prevent anyone from going down the wrong road. If they're going to have an eating disorder, they're going to have an eating disorder. If they're going to do this, they're going to do that -- I don't really think fame has a lot to do with it," she said. "I think it adds some pressure and sometimes it makes the problem a little bit worse. But for me, I had been struggling with those issues beforehand, and unless you're in a good place when you start working, I think that it's kind of inevitable for these things to happen."
Season 2 of "The X Factor" premieres on Wed., Sept. 12 at 8 p.m. ET.
Are you excited for Season 2 of "The X Factor"? Are you excited to see Britney Spears and Demi Lovato judge, or will you miss Paula Abdul and Nicole Scherzinger?