Santiago Calatrava is one of the world's most renown architects, so it's no surprise that he should finally have a show at the Hermitage, one of Russia's premiere cultural institutions. We asked the engineer and architect some questions about his life, work, and dream projects; his answers are below. Scroll down for photos.
HP: What about this exhibition will surprise your fans?
SC: I am working 30 years, already you see the freedom. It's not a retrospective, but the curator put together aspects of my work not very well known, like large paintings, the sculptures I've done, and of course architectural models and drawings. What this exhibition brings is the idea that the work is very diverse but it comes from the same person, and has a certain coherence. They speak to each other. Where almost 20 years ago it was impossible to do; I didn't have the body of work at the time. I am very proud and happy that I can exhibit in a prestigious institution in a great country like Russia, and in its cultural city. It's a real cultural capital in Europe.
HP: Could you tell me a bit about your relationship to Russia?
SC: Having visited the canals, the avenues, and all the renovations to the river -- it's a wonderful place. The Hermitage has one of the biggest modern collections in the world, also one of the great museums along with the Metropolitan in New York and the Louvre -- it is one of the highlights of art collections worldwide.
An architect, painter or sculptor confronts the [Russian] avant-guarde's enormous influence. My relation to those schools is through the studies, readings, and seeing and I have a great admiration for all of that.
HP: When you were interviewed by Charlie Rose, he asked if you were an artist, architect, or engineer. I wanted to know more about the relationship between art and science for you, since you often merge both.
SC: I have the heart of an artist. Once you have been working and doing different things in your life, dealing with very complex projects like the Olympics in Athens in 2004, you get the experience of architecture as very challenging. Also on the other side all those years I've been working in my studio, painting and reflecting and sketching thousands of drawings. Finally, I think it's great to deal with important works in which you are delivering something to the community and is not only the involvement of myself but many people investing to this thing -– it's a great thing and delivers a lot of satisfaction. You use your skills as an architect, an engineer… But finally what I like inside my heart is the intimacy of work; the genesis of the project. If you compare, you'll see the overall work as an orchestra, and I'd like to be the composer. (laughs)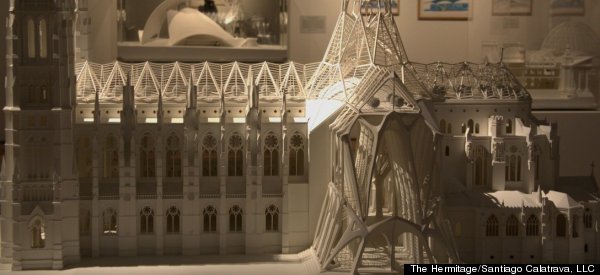 HP: You do a lot of sketching for an architect, especially since now the focus is on computer-aided design. Do you see yourself as different than the average designer?
SC: We live in the era of the computer as a tool and you can't go around it. In my case, I see everyone around me is using computers. I think the sketch and sketchbook is still the most direct. It's a graphing language. Imagine we have a computer so sophisticated we can go from our mind to the computer, I think our hand and our arm is a promulgation of our brain and our soul, and the sketch is vital -– it's full of spontenaity. I like sketching and giving them a certain quality; it has its own life. I keep sketching and drawing; my wife has been collecting them since the beginning. It's the most direct and genuine part of my work.
The world of engineer can be beautiful, and we don't pay enough attention to the work of engineers, when you think of bridges and roads. So many tools come from the hand and mind of the engineer; sometimes they neglect the artistic aspects because the economic side of the profession is very present; but when they pay attention to artistic aspects you see the columns of the Brooklyn Bridge and its a magnificent example of civil engineer. I feel really attached to engineering and the mathematics, mechanics and rigors of that world -– the calculations –- have been done with pleasure. Indeed, I chose to be an engineer after being an architect. I started a short period of time in art school, went to architecture school, and then went into engineering. I say that because it was my choice to do it like that and I don't regret it.
HP: You've spoken a lot about movement. How is this expressed in your work and why is it so important?
SC: I went through the idea, the question of movement, when I was a student. Writing my doctoral thesis, I did a thesis based on topology and the movement of elements toward transformations from a three dimensional body to a two-dimensional and even one dimensional (form). The idea of transformation and movement was from the beginning very important to me; always from an experimental basis I try whatever I'm building from the early ones to use the transformation of the elements into coherent forms. You see in the fabrique ensteem in Northern Germany three gates opening and closing in particular ways. You see things exploring first. Things change because they are mobile – doors, windows, gates, all of that. In Milwaukee I introduced the transformation by opening and closing the wings, but with a different expression. The idea of movement for expression is important. In the last 30 years, from very modest inventions to symbolic projects like obelisks and roofs which change shape -– I've been exploring that.
HP: What would be a dream project for you?
SC: In the commencement I gave to students at Pratt [this year], I told them when you start in the beginning, you have very modest things to do. In my case, someone wanted a small balcony in a house. The balcony was there, but they wanted to enlarge it. Or say a small bus shelter. Or an architect says I have a wonderful project and can you help me and I'll do a canopy or something like that.. those things, for me, became the dream project. So I was doing this balcony, this canopy, or this bus shelter as if it was the dream project of my life. Maybe this balcony could have the essence of the structural behavior of a bridge, or this bus shelter could have the essence of a whole railway station. For me, the balconies became bridges, the bus shelters became railway stations and the canopies became roofs and other things. Whatever you do, you have to do it with your full heart.
There is no waste in this profession. Even a modest project is important. Even today when I design a station I have to deal with a bench. It's where people sit! I try to deal with it as a single object in the context of the overall station. Dream projects are like persons; they are more or less interesting...ideal forms, but you have to address all projects with respect and care.
"Santiago Calatrava: The Quest for Movement" is on view at The State Hermitage Museum in St. Petersburg, Russia until September 30, 2012.
See a slideshow of the work on view below: