As expected, Michelle Obama has proven herself to be a fashionable London 2012 Olympics attendee. She's already worn patriotic color palettes, donned an elegant white and silver look at Buckingham Palace and even got into the Olympic spirit by throwing on chic blue sports gear to play a a few games of her own. Her latest show of support? Looking seriously stylish as she cheered on Team USA during a tennis match.
FLOTUS had one of the best seats in the house as she watched Serena Williams match against Serbian Jelena Jankovic: smack dab in the middle of Williams' coach box. Twitter was immediately abuzz with how fantastic she looked in her daring mixed-print ensemble. Michelle wore a black and white gingham and polka dot Tracey Reese dress and a polka dot sweater. The result was quite a fashion-forward courtside show. (Ed. note: She may possibly be the only woman in the entire world who can look so streamlined in such a multi-faceted look.)
But don't think Mrs. O was just there to look pretty. The first lady definitely got into Olympic spirit, paying close attention to the game and cheering at every chance she got. She didn't miss the opportunity to shmooze with the Williams family either and made sure to chat them up while she was there. Thankfully, her support paid off and Serena advanced to the next level with a 6-3, 6-1 score. Go Team USA!
What do you think of Michelle's mixed-print look at today's game?
Scroll down for photos.
Michelle Obama gives the thumbs up to Serena Williams after her 63 61 win over Jelena Jankovic twitpic.com/acr2je

— ITF Olympic Tennis (@OlympicsTennis) July 28, 2012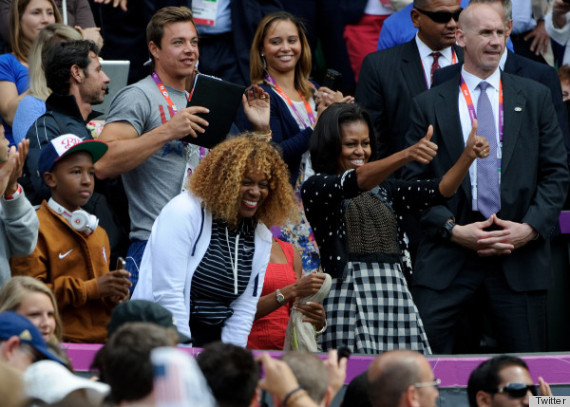 See some shots of Michelle Obama playing sports!
Want more? Be sure to check out HuffPost Style on Twitter, Facebook, Tumblr and Pinterest.