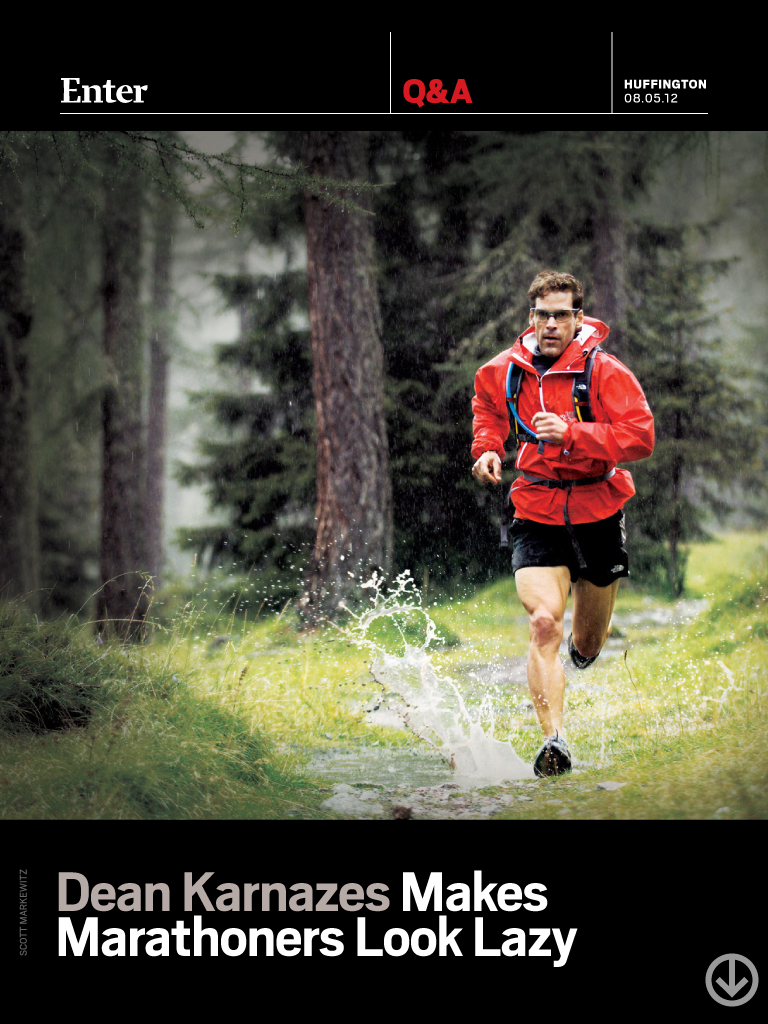 Think one marathon is tough? Try 50, in 50 states, on 50 consecutive days. Dean Karnazes has. He's also run 350 miles in 82 straight hours, raced in 120-degree heat and in below-zero temperatures and thinks 31 miles counts as a short race. At 49, Karnazes is the ultra, ultra-marathoner and, surprisingly, also kind of a softy -- proud of anyone who laces up their sneakers, gets out there and runs.
- Catherine Pearson

First things first, why such long distances?
To an extreme athlete, there's a certain appeal to doing extreme things -- seeking the most extreme physical challenges in some of the most extreme climates in the world. Testing and expanding the limits of human endurance is kind of my thing.
What kind of training does that require?
I do a lot of marathons as training runs. If I'm somewhere and there's a marathon, I'll sign up and just go run it. I'm also very opportunistic in my training. If I've got half an hour, I will throw on my running shoes and train. I have my whole office set-up at waist level, I don't sit at all during the day. Sitting, to me, is the devil.
What about your diet?
Jack LaLanne had two rules: If man made it, don't eat it, and it if it tastes good, spit it out.
I eat nothing that's processed or refined — no high-fructose corn syrup, no sugar, no trans-fats. I eat a lot of fish and monounsaturated fats from olives, olive oil and nuts. A lot of organic, fresh fruits and vegetables. No bread. No gluten. No wheat. No rice. I use a formula of roughly 500 to 700 calories per hour of running I do, based on the intensity and heat.

In other words, discipline, discipline, discipline.
Well, [my diet] has become very refined over years and years. I'll never live down the time I was out on a long run, in the middle of nowhere, and I was starving. I had nothing but a cell phone and a card. So what does any enterprising lad do? I ordered a pizza. Yes, I had pizza delivered to me while I ran. But then I really started tuning into how what I ate made me feel.
Ever get lonely out there, all on your own?
I'm an introvert. I prefer running by myself, and I prefer running on trails in natural settings.
Are there any lessons we mere mortals can take from what you do?
One important one is baby steps. Even running these huge distances I run, you really do it one step at a time. In this day and age, there's so much noise. Don't think about distractions, just put one foot in front of the other to the best of your ability.
Speaking of ability, there's been an explosion in the number of people running marathons recreationally. Is the long distance thing really for everyone?
I think it's really a great thing that participation in running events is on the rise. I don't mean ultra-marathoning, although certainly ultra-marathoning is growing. But participating in 5Ks, in those couch to 5ks, that's great.
Sometimes you hear that it's not healthy to do this, but I think it's total rubbish. The media focuses on the injuries, because who wants to hear that someone finished a race and loved it?

How do you push through when you just want to stop?
When you run, there's going to be a point when you just say "I can't do this." Typically what you do at that point is start looking at the mile markers. You think, "I'm at mile 18, I'm at mile 19 … I'm going to die in the next 10 feet." Don't do that. Don't think about the future, you have to be in the moment, be present. Put your head down and say, "My next step is going to be the best step."
Ever going to quit?
I always say, the finish line for me is a pine box. If one morning I wake up and I'm like, "I don't like this, this is misery," then I'll stop. But right now, the fire still burns hot.
This story originally appeared in Huffington, in the iTunes App store.