The hubbub over the U.S. Department of Agriculture's retracted tweet supporting "Meatless Mondays" continues.
Last week, Republican Iowa senator Chuck Grassley's made a tongue-in-cheek promise to compensate for the recommendation by eating an extra helping of meat. PETA responded with a death pool, taking bets on how long it would take for Grassley to "succumb to heart disease, diabetes, cancer, or some other meat-related disease."
On Monday, the Iowa lawmaker continued to show his defiance -- this time, with his lunch order. Texas' junior senator John Cornyn posted the below image to his office's Facebook page. The accompanying text reads: "PHOTO: Cornyn, Grassley Celebrate 'Meat Monday:'"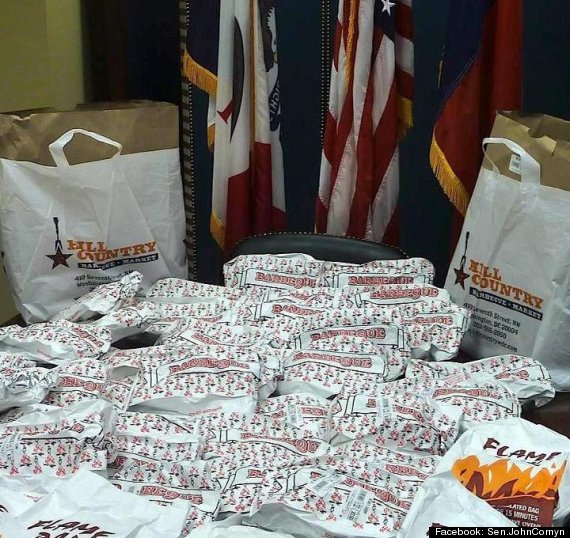 In a press release issued the same day, the senators spoke about the interests of the American agricultural community:
"In some of the toughest times they've seen in recent memory, Texas cattle ranchers and farmers deserve an Administration who works with them, not one who undermines them with boneheaded decisions from bureaucrats in Washington," said Sen. Cornyn.

"This is a reminder to USDA that it's supposed to advocate for American agriculture, not against it," Sen. Grassley said.
The piles of wrapped meat were ordered from Hill Country, a New York-based barbecue outfit located in D.C.'s Penn Quarter neighborhood not far from the senators' Capitol Hill office.
If you're in the neighborhood -- and you have a the proper clearance -- you might stand a chance at some leftovers. According to The Hill:
A staffer said that there was "plenty to go around" for the two senators' employees. The lunch included a total of 52 orders of barbecue beef sandwiches, brisket, sausage and ribs, as well as sides of cornbread and macaroni and cheese.
BEFORE YOU GO
PHOTO GALLERY
The Countries that Eat the Most and the Least Meat