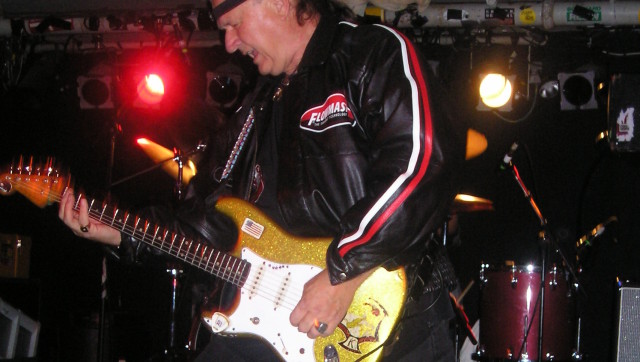 TOP 5 FOR TUESDAY, JULY 31
1. Dick Dale At Birchmere
The guitarist that influenced Hendrix, Van Halen and pretty much everyone that wants to make guitars scream. See the legend perform the rendition of "Misirlou" that makes you feel like a certain badass in a certain Tarantino film. 7:30 p.m., all ages, $29.50
2. "My Reincarnation" At Renaissance Hotel
An acclaimed documentary about family, meditation, buddhism and more. Presented by BuddhaFest. 8 p.m., all ages, no cover
3. Toadies, Helmet At Fillmore Silver Spring
Go for the nostalgia (The Toadies will play "Possum Kingdom") or wailing, not exactly metal but definitely rock riffs from Helmet's Page Hamilton. 8 p.m., all ages, $23
4. Write.Drink.Read At Science Club
Equal parts happy hour, workshop and open mic, this Dupont Circle event allows writers and potential scribes the chance to bounce ideas off each other in a comfortable environment. 6:30 p.m., 21+, no cover
5. Aaron Thompson At Paperhaus
This former D.C./current NYC singer/songwriter will please Jeff Buckley fans in both style and ability. 8:30 p.m., all ages, no cover
TOP 5 FOR THE NEXT 5 DAYS
Wednesday, August 1
Joan Soriano at Strathmore
The Dominican Republic's Joan Soriano and his six-member band will play bachata music. The genre is full of finger dexterity and gentle sounds. It takes a lot of skill to make it sound seamless.
Thursday, August 2
Tracy Morgan at Howard Theatre
This will be a train-wreck or transcendent. Or just another show. Go for the entertainment or potential story.
Friday, August 3
Jerry Seinfeld at Kennedy Center
Because it's Seinfeld. Take your grandmother, mother, son, grandson, anyone breathing. They'll like it.
Saturday, August 4
Summer Spirit Festival at Merriweather Post Pavilion
Shows like this make people like summer festivals. Sets from Erykah Badu, Common, Chuck Brown's Band, Sharon Jones and the Dap-Kings, Estelle and more make any ticket price seem reasonable.
Sunday, August 5
Michael Hall - Yoga Community Donation Class at Meridian Hill Park
Maybe the biggest benefit to date for yoga instructor Michael Hall, this class will be an excellent fundraising event and chance for all levels of yoga enthusiast to take a class in the park.
BEFORE YOU GO