As "Gossip Girl" crawls to its miraculous finish, where do we stand on Chuck Bass -- er, Ed Westwick? When the show premiered, us ladies were taken with Chuck's brazenly showy style -- the scarves! the ascots! the purple paisley! -- and eventually allowed the dandy to worm his way into our hearts. It didn't hurt that Westwick, who has a English accent IRL, is a devastatingly handsome Brit.
But today we glimpsed a pic of Westwick hanging out on the "Gossip Girl" set in a rather un-Chuck ensemble: a full-on onesie. Like, with a hood. The kind children wear to sleep.
Except children don't usually zip the front down low enough to reveal their patchy chest hair. Oh, and he's also wearing flip-flops.
Westwick in a onesie garnered dramatically different reactions within the HuffPost Style office. "I DON'T CARE, I STILL LOVE HIM! ;) hehehe" was one editor's take. "I used to think he was so hot... oh, how the mighty have fallen" was another.
This reader is simply surprised to see Westwick so dressed down -- the last time Westwick surfaced, wasn't he walking a Fashion Week runway?
Then again, it's not his first onesie...
Check out Ed's creative look. Can your love for Chuck withstand such a sartorial offense?
PHOTO: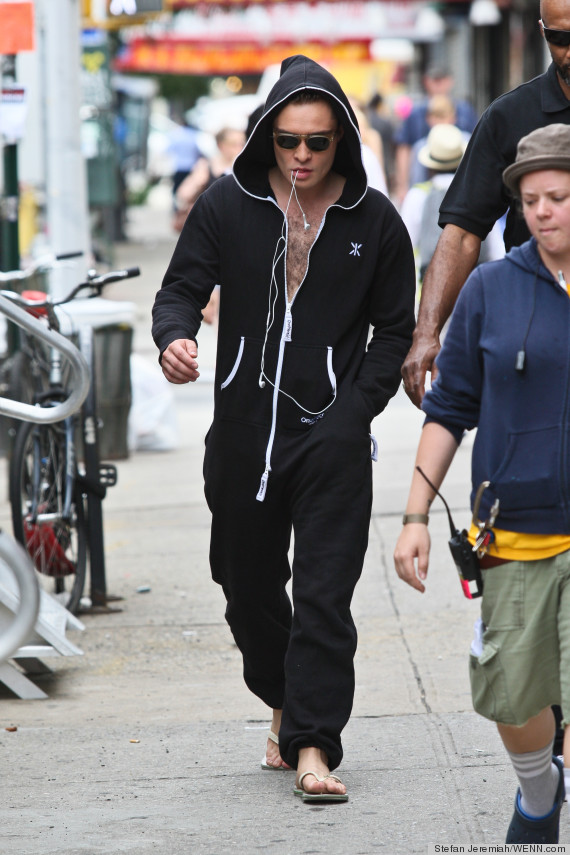 See Ed Westwick all buttoned up...
PHOTO GALLERY
Ed Westwick for Philipp Plein
Want more? Be sure to check out HuffPost Style on Twitter, Facebook, Tumblr and Pinterest.