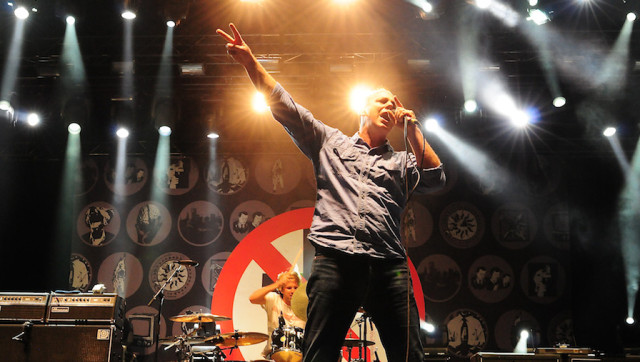 It's plain and simple: LA rocks!
Proof? A swath of the city on Sunset Boulevard between Doheny Avenue and San Vicente Boulevard is going to be shut down for the Sunset Strip Music Festival, which just announced its set times.
On August 18, Angelenos will flock to rock out to bands like Bad Religion and The Offspring, while enjoying food, drink, and more. With bands playing at two outdoor stages, the Roxy, the Key Club, and the Whisky A Go Go, there'll definitely be a lot to see. Figure out how to cope with all the fun with the set times list below.
West Stage (Outdoors)
2:30-3:00 p.m. Dead Sara
3:50-5:05 p.m. Black Label Society
5:50-6:50 p.m. Bad Religion
7:30-8:45 p.m. The Offspring
9:30-11:00 p.m. Marilyn Manson
Monster Energy East Stage (Outdoors)
2:00-2:30 p.m. The Mowgli's
3:10-3:50 p.m. T. Mills
5:00-6:00 p.m. De La Soul
6:50-7:30 p.m. Far East Movement
8:15-9:15 p.m. Steve Aoki
The Roxy
1:15-1:45 p.m. The Knife Outline
1:55-2:20 p.m. The Burning of Rome
2:35-3:05 p.m. Caught A Ghost
3:20-3:55 p.m. The Stone Foxes
4:10-4:40 p.m. Wallpaper.
4:55-5:15 p.m. Terraplane Sun
5:25-6:05 p.m. Matt Skiba
6:20-7:00 p.m. Das Racist
7:30-8:10 p.m. Love And A .38
8:30-9:00 p.m. Street Drum Corps
9:15-9:45 p.m. Filligar
Dim Mak "After Party"
10:30 - 11:00 p.m. - Bones
11:00 - 11:45 p.m. Yung Skeeter
11:45 - 12:35 a.m. - PeaceTreaty
12:35 - 1:25 a.m. - Clockwork
1:25 - 2 a.m. - Secret guest DJ
Key Club
1:30-2:00 p.m. V Sevani
2:15-2:45 p.m. Arson-Strike
3:00-3:30 p.m. Betty Moon
3:45-4:15 p.m. Venrez
4:30-5:00 p.m. Nylon Pink
5:15-5:45 p.m. California Windfall
6:00-6:30 p.m. Vicci Martinez
6:45-7:15 p.m. True Press
7:30-8:00 p.m. Patience Price
8:15-8:45 p.m. Brandon And Leah
9:00-9:30 p.m. Many Of Odd Nature
9:45-10:15 p.m. Blackburner
10:30-1:30 a.m. After Party
Whisky A Go-Go
1:05-1:30 p.m. Nature by Numbers
1:45-2:15 p.m. Tempting Fate
3:00-3:30 p.m. The Untouchables
3:45-4:15 p.m. Hardly Dangerous
4:30-5:00 p.m. The Rocketz
5:15-5:45 p.m. Cold Blue Rebels
6:00-6:30 p.m. Leif Garrett
7:30-8:00 p.m. Hurricane
8:15-8:55 p.m. Dynazty
9:10-9:40 p.m. 45 grave
9:55-10:25 p.m. Beowulf
10:40-11:10 p.m. Bitch
11:25-11:55 p.m. Hotel Diablo
98.7 FM Stage (Outside of The Roxy)
1:00-1:30 p.m. The Bolts
1:45-2:15 p.m. The Vim Dicta
3:00-3:20 p.m. Jared James Nichols
3:30-3:50 p.m. Cherri Bomb
5:05-5:35 p.m. Midnight Hour
6:55-7:25 p.m. Family of the Year
8:45-9:20 p.m. JJAMZ
10:30 p.m. Silent Frisco's Silent Disco featuring DJs Motion Potion, DJ Wolfie & Special Guests
Plush Lounge @ Key Club
2:00-2:40 p.m. Force Multiplied
3:00-3:40 p.m. 210 To Lowell
4:00-4:40 p.m. Soulsign
5:00-5:40 p.m. Uncle Daddy
6:00-6:40 p.m. Vyrus
7:00-7:40 p.m. Lit Soul
8:00-8:40 p.m. Holding Harlot
9:00-9:40 p.m. Barbarian Overlords
10:00-10:40 p.m. Mad Temple
11:00-1:00 a.m. Breaking The Law