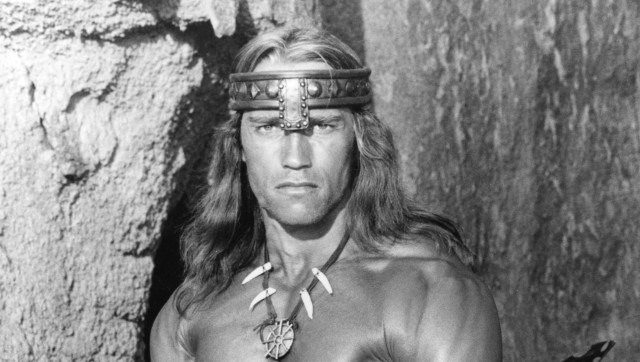 If your teenage son starts hanging posters of oiled-up musclemen in his room, don't do what Arnold Schwarzenegger's mother did.
During a TV critics panel in Beverly Hills Friday, Schwarzenegger revealed that his mother called the doctor to ask what was wrong with her son, reports the New York Daily News.
"Is there something wrong? Is my son turning south here?," Schwarzenegger said, mimicking his mother. "All his friends have girls on the wall and he has only men oiled up with little briefs on."
Schwarzenegger's father was also skeptical about his son's quest to become a bodybuilding champ. According to Schwarzenegger, the only advice he got from his dad on his goal was, "Why don't you go out and chop wood and shovel coal or do something that you can be useful?"
The bodybuilder turned action star turned politician got up close and personal in advance of his upcoming ESPN short film feature, an accompaniment to the network's "30 For 30" movie series on notable athletes. Schwarzenegger's bodybuilding days, Hollywood film credits and political life are already well documented, notes Zap2It, which is why the short film will focus on a little-known part of his life: his time in the Austrian military. That's where, according to Schwarzenegger, he had to sneak around to keep pursuing his goal and was even jailed as punishment for attending (and winning) a local body-building competition.
It's difficult to imagine Schwarzenegger, now 65, vulnerable to the whims and mercies of other people. He counts some of the richest and most important people in the United States as friends, and he recently announced a joint venture with USC to start a policy think tank in order to pass on the knowledge he gleaned as California Governor. The actor is also starring in the upcoming blockbuster film "Expendables 2" with longtime friend Sylvester Stallone, and he's also got ties to one of America's most prominent political families through his long (but soon-to-end) marriage with Maria Shriver.
But once upon a time, it was Schwarzenegger against the world.
"When Arnold was 18 years old, he didn't have success, he didn't have a fortune and fame. He didn't have anything to fall back on. He had everybody telling him that his aspirations were silly and he should give them up," co-director Michael Zimbalist said during the panel. "He turned lemons into lemonade in that situation."
Check out some photos of vintage Schwarzenegger and sit tight for his "30 For 30" debut on Sept. 26. on Grantland.com.
PHOTO GALLERY
Vintage Arnold Schwarzenegger
BEFORE YOU GO