By Forrest Wickman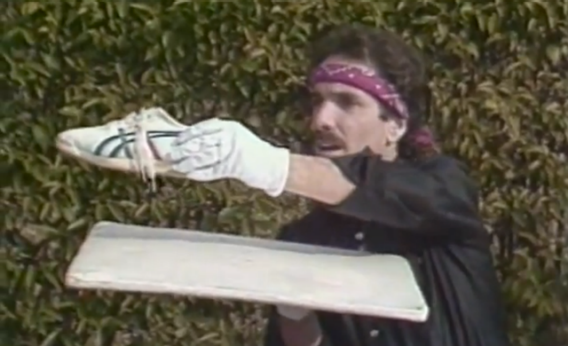 A video of Bill Martinelli aka "The Skipper" went viral back in April.
Still from YouTube.
When a video of "The Skipper"—a man who travelled everywhere by skipping—appeared on Reddit in April and began to go viral, many fans demanded that the Internet band together and track him down. The top comment on YouTube read, "WE MUST FIND THE SKIPPER NOW, AND SEE IF HE IS STILL SKIPPING." One Redditor posted an Ask Me Anything request for "The Skipper."
While at that time we unable to track him down, Slate's Brow Beat did unearth a 4,000-word Miami Herald profile of the man—whose real name is Bill Martinelli—from 1988. The profile, "A Leap of Faith," revealed how even through tough times in the '80s—including losing his girlfriend, suffering a possibly homophobic beatdown, and losing a legal battle that threatened his right to skip for a living—Martinelli had never lost the bounce in his step. However, in the more than twenty years since, there appeared to be no further mentions of The Skipper and his whereabouts, and whether he was still skipping remained mysterious.
So you can imagine my surprise when I got a message from Kim "Skipper" Corbin—creator of skipping advocacy site iSkip.com—last week, revealing that she had found "The Skipper." As Corbin detailed on her site, she had been looking for Martinelli for years, but it was only after the Martinelli video went viral that she was able to recruit the help of others to track him down. It turns out that while The Skipper, as Corbin reported and as Martinelli confirmed to me, "does not currently have a regular skipping practice," he hasn't lost his faith in skipping. He still believes that skipping is "a better way to move across the earth":
Better than running because it's less harmful. Better than walking because it's faster. When done properly it is a controlled form of locomotion that can certainly be incorporated into everyday life.

Whether it will become more mainstream or not may in part depend on what you and I do in the future.
Martinelli, who now goes by the name Skip Martin, also described how it felt to see his video go viral:
It came as a complete surprise to me and I only found out about it after I started hearing from friends. What doesn't surprise me is the interest in it. I was always the object of intense curiosity and interest from the day in 1982 when I went public with it. … It reminded me of some of the fascinating things which happened to me as a result of being the first adult human being to take a childhood form of movement and incorporate it into daily life.
So what is The Skipper up to now, if not skipping? His real passion is working to help defeat Mitt Romney. Martin runs the Web site MittRomneyFlipFlops.net, which sells anti-Romney t-shirts. As he told Corbin, "If he's elected, I'm skipping town."