Ever wonder what a teen gymnast could want to do besides win gold medals at the Olympics? Why, meet Kate Middleton, of course. Fortunately for Team USA, the young ladies on the gymnastics team managed to tick both of these things off their wish lists in the space of a few days.
After watching the "Fab Five" compete yesterday, Kate decided that a congratulations was in order and walked right up to the team. Even though we were dying for a Kate Middleton-Gabby Douglas meet and greet, the gold-medal winner didn't seem to tweet any specifics about the meeting like her teammates did. We can't be 100 percent sure what they discussed, but judging by the gymnasts' tweets, fashion was the natural topic of conversation. Aly Raisman was definitely a fan of the duchess' wardrobe, tweeting:
Just met princess Kate with @jordyn_wieber @kyla_ross96 & @gabrielledoug she is so beautiful & so nice! I told her I loved her style lol :)

— Alexandra Raisman (@Aly_Raisman) August 5, 2012
Jordyn Wieber couldn't believe her luck either, tweeting:
Can't believe I just met Princess Kate Middleton! She was in the crowd at the competition and she stood up to talk to us! #honored

— Jordyn Wieber (@jordyn_wieber) August 5, 2012
Yesterday we met the Duchess, Kate Middleton! She was so nice and she told us she loved our leotards!instagr.am/p/N_u73yPVoN/

— Jordyn Wieber (@jordyn_wieber) August 6, 2012
Even though the girls seemed pretty stoked to gush about their meeting with the Duchess of Cambridge, we have a feeling Kate would've used the same "honored" hash tag to describe how in awe she was to meet the Team USA gymnasts (if she maintained a Twitter account, that is).
Check out the Jordyn Wieber's Instagram of her team's royal introduction. Who would you be more honored to meet: Kate Middleton or the Team USA gymnasts?
PHOTO: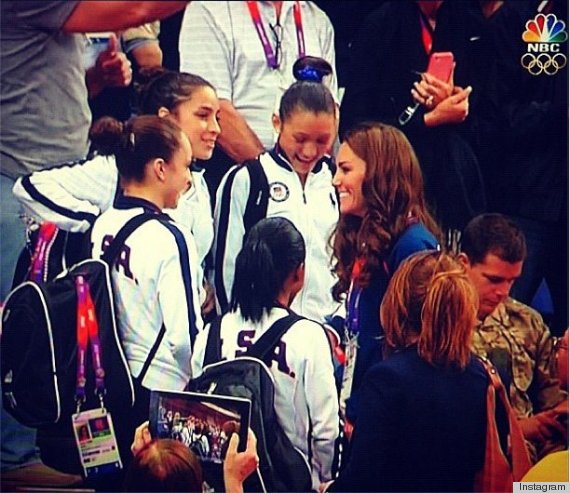 Check out Kate Middleton's Team USA-approved style!
PHOTO GALLERY
Kate Middleton's 2012 Outfits
Want more? Be sure to check out HuffPost Style on Twitter, Facebook, Tumblr and Pinterest.
BEFORE YOU GO