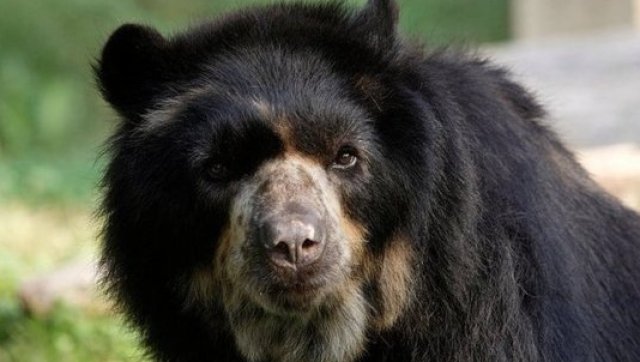 WASHINGTON -- Monday was a sad day at the National Zoo.
Nikki, a 20-year-old male Andean (or spectacled) bear, was euthanized after a year's struggle with squamous cell carcinoma -- a type of cancer.
"It's always hard to lose an animal we care so much about, and we feel very lucky to have had Nikki as part of the National Zoo family," said Craig Saffoe, curator of Great Cats and Bears at the National Zoo, in a statement. "He was a really cool bear gushing with personality, which made him a favorite amongst visitors and keepers alike."
Story continues below...
PHOTO GALLERY
Nikki The Andean Bear
During his time at the Zoo, the bear led a colorful and adventurous life, undergoing a weight loss program -- he arrived at the zoo very overweight but soon lost 200 pounds -- designed by zoo staff to make him fit for siring cubs.
It worked. In January 2010, Nikki became the father of two offspring, Bernardo and Chaska. The cubs were the first Andean bears born at the facility in 22 years and the only surviving cubs produced in the Association of Zoos and Aquariums' Andean Bear Species Survival Plan in seven years.
With only about 2,000 remaining in the wild, Andean bears are designated as vulnerable on the International Union for Conservation of Nature's Red List of Threatened Species. They generally live between 20 and 25 years in captivity, according to the National Zoo.
Two of the shaggy-snouted animals -- Billie Jean and Chaska -- remain in D.C., though their exhibit is only visible on weekends until September.

BEFORE YOU GO