A little girl's shocking death was recently detailed before a Texas judge who was tasked with weighing evidence in the case.
"It wasn't supposed to happen like this. I love my daughter," Melanie Garcia sobbed in court, according to the Houston Chronicle.
The 21-year-old was testifying before Magistrate Judge Andrew Carruthers at a probable cause hearing in Bexar County on Thursday.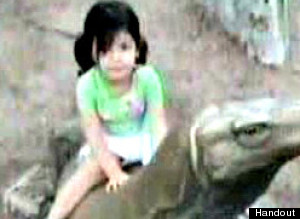 Garcia and her ex-boyfriend, Matthew Carrillo, 23, were both charged in May with injury to a child causing serious bodily injury in the death of Garcia's 4-year-old daughter, Kyla. Prosecutors said they are considering capital murder charges in the case.
Carrillo has been held since his arrest in the Bexar County Jail in lieu of $200,000 bail. Garcia was released from custody when she agreed to take a lie detector and to testify against Carrillo.
"She used to tell him that he was her best friend," Garcia said about Kyla's relationship with Carrillo, who is not the girl's father.
Garcia testified that she was walking with her daughter and Carrillo on May 6. Garcia said her former boyfriend was upset that her daughter walked slowly and became incensed when a meatball fell from Kyla's Subway sandwich.
When the trio made it back to their home in the 300 block of Laverne Avenue, Carrillo had Kyla remove her pants and underwear and had her brace herself against the couch, Garcia said. Carrillo allegedly hit Kyla, and when she fell down, he picked her up by one arm and dangled her in the air while he beat her with a belt, Garcia testified.
After making Kyla hold a phone book and a heavy box for an extended period of time, Carrillo allegedly slapped her and pushed her, causing her to strike her head on the ground.
A few hours after the alleged beating, an unconscious Kyla was taken to CHRISTUS Santa Rosa Children's Hospital. The hospital staff was allegedly told the little girl fell out of a wagon. However, doctors examining the child found head injuries, bruising to her body, including her genitals, and a possible cigarette burn on her thigh.
The injuries were consistent with abuse, so police were notified and Kyla was airlifted to University Hospital's pediatric intensive care unit. Garcia and Carrillo were arrested the following day.
Kyla underwent emergency surgery and was placed on life support. She remained in the intensive care unit until her death on May 9. According to the Bexar County Medical Examiner's Office, Kyla died of blunt force trauma to the head.
According to Child Protective Services spokeswoman Mary Walker, the agency had investigated allegations of child abuse involving Kyla in March, shortly after her mother began dating Carrillo.
"A thorough investigation entailed," Walker said in a statement.
The spokeswoman said no evidence of abuse was found and drug tests administered during the investigation came back negative.
"Unfortunately, circumstances and situations can change dramatically in a short period of time and more often than not, we find that people are not always honest and forthright in the answers they give us," Walker said.
According to San Antonio's 1604 TV News, Garcia has a prior criminal record. She was arrested for drug possession in April 2009 and for a probation violation in May 2010.
During Thursday's hearing, Garcia blamed Carrillo for her daughter's death. She also said she had lied to hospital staff because she was afraid of him.
Carrillo's defense attorney, Anthony Miller, denied his clients involvement and suggested Garcia was trying to put the blame on him. Miller also asked Carruther's to order his client released from jail for lack of probable cause.
The judge denied Miller's request but did lower Carrillo's bond from $200,000 to $100,000.
According to mysanantonio.com, seven children have died of abuse or neglect in Bexar County since Sept. 1, 2011. The number does not include pending investigations, the website reported.
BEFORE YOU GO