Mindy Kaling, funny-woman extraordinaire and HuffPost Women friend-crush, is on the cover of the September issue of Fast Company magazine. The headline she's next to? "Social Media Is Sexy! (Kinda)." Social media may only be kinda sexy, but Mindy looks amazing -- even if she is striking a finger-in-mouth, glasses-tilted-on-her-face sort of pose.
The article discusses the role social media could play in promoting her new television show, "The Mindy Project," which premieres this fall on Fox. Kaling is a Twitter darling -- our entire editorial staff can be counted in her 1.8 million followers, and Fast Company wonders whether this tweet-power will translate into ratings. Who knows? And as Jezebel's Dodai Stewart points out, the content of the show is far more likely to influence viewers than the social media presence.
Luckily, Mindy seems more concerned with enjoying social media than capitalizing on it. "I don't actually know if any people care about a specific tweet of mine, but I have fun," she told Fast Company. What else can you ask from 140 characters?
LOOK: Mindy Kaling's Fast Company Cover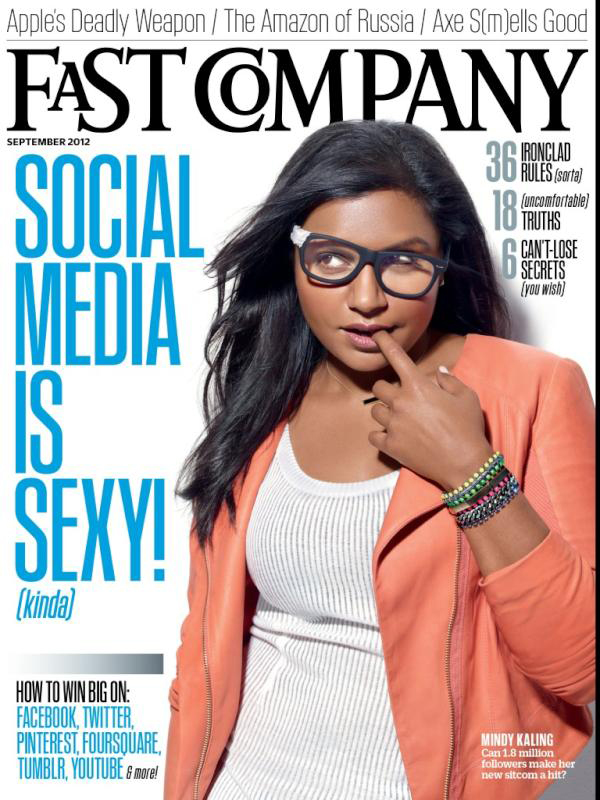 (Photo Credit: Fast Company via Twitter)
BEFORE YOU GO
PHOTO GALLERY
What We Hope To See On Mindy Kaling's New TV Show