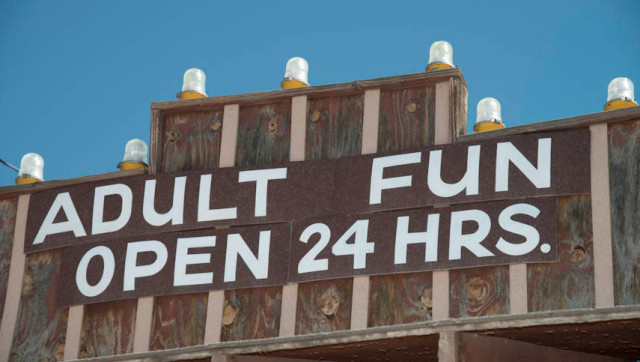 Would you like to tour seedy bedrooms once occupied by 1970s-era sex workers and their bedroom companions?
Dennis Hof, the self-proclaimed P.T. Barnum of Booty, thinks you would. He has announced plans to develop a brothel museum in Crystal, Nev., that will document the Silver State's history of legal prostitution. The site, some 60 miles from Las Vegas, is an abandoned brothel once called the Cherry Patch Ranch.
The Cherry Patch Ranch was originally owned by controversial Nevada businessman Maynard "Joe" Richards. Closed several times over the past decade, it eventually ended up in Dennis Hof's hands two years ago. But instead of just reopening the doors of the red light attraction, Hof decided to create a museum documenting the past 40 years of Nevada's salacious sex industry.
While the museum is still in the early planning stages, photographer Steven Hirsch, who was in Nevada for a project involving first-person interviews with prostitutes, was recently invited for a sneak peek. He told The Huffington Post the place had a "trailer park motif," full of worn furniture and sparsely covered mattresses that made him feel like he "was in a time warp." His photographs (see the slideshow below) evoke an eternal basement of red shag carpet and wood paneling.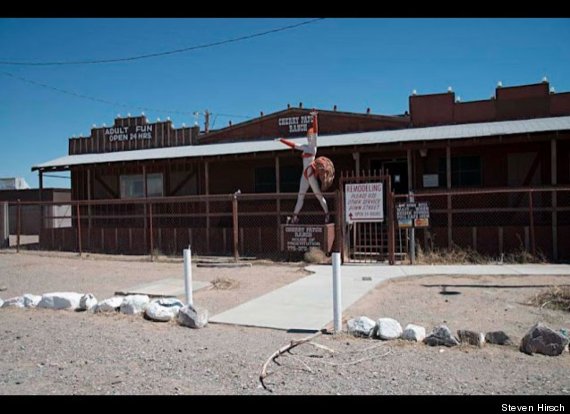 Hof, the mind behind the museum, has been an outspoken proponent of legal prostitution, most recently trying to convince London authorities to bring back legal brothels in time for the Olympics. He owns several properties outside Carson City, Nev., including the Moonlite Bunny Ranch, which was featured in "Cathouse: The Series" on HBO.
Now Hof has turned his attention to the Las Vegas area, bringing his brothel empire as close as he can to Sin City (where bordellos are banned). His first project is the sci-fi themed Alien Cathouse, which will feature an array of intergalactic women prepared to meet the desires of horny geeks heading through southern Nevada. The house of alien repute has yet to open, but in the meantime, Hof is seeking to develop the surrounding area, including the brothel museum.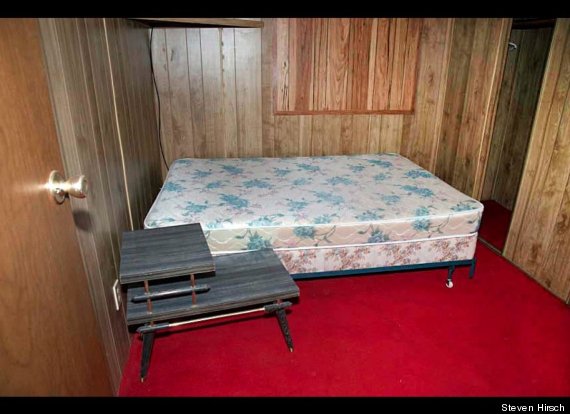 "What we're trying to do is show people a piece of Nevada history with that brothel," Hof told the Daily Mail. "What it looked like, how it operated. There'll be history on the walls of all kinds of events. You know, the brothel wars in Nye County, 30 years ago."
To top of what Hof hopes will be a total tourist attraction package for nearby Area 51 visitors, the museum will be accompanied by a restaurant called Mabel's Whore House Bar and Grill, which will hook in prospective visitors with cold beer rather than "Live Nude Girls."
The museum could help Hof promote his other establishments as well. Although Nevada law severely restricts the advertising of legal prostitution, Hof can publicize his tourist-friendly museum and thereby presumably raise awareness of Alien Cathouse and his other X-rated businesses.
Nevada may be the only state that currently licenses prostitution, but it's not the only one to have a brothel-turned-museum. In Butte, Mont., the Dumas Brothel was transformed into a historical landmark after nearly a century of bawdy activity and now offers tours of the city's historic red light district. And in Skagway, Alaska, there's the Red Onion Saloon, once a saloon-bawdy house and now a saloon-museum.
Until the Cherry Patch Ranch museum opens, check out the photos taken by Hirsch. Does this look like the site of your next family vacation?
BEFORE YOU GO
PHOTO GALLERY
Welcome To The Cherry Patch Ranch