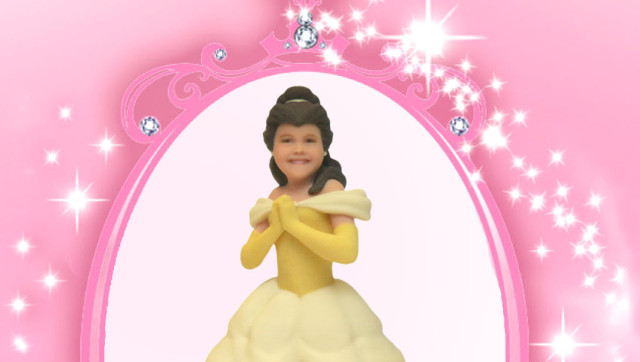 Disney has long transformed little girls into princesses by selling them costumes, wands and tiaras. But a new limited-time offer at Disneyland takes the idea even further. Starting August 26, for a $99.95 (plus shipping), kids will be able to take home a figurine with their own faces superimposed on a Disney princess's body.
Erin Catalano, the merchandise communication specialist of Walt Disney World Resort, announced the interactive experience on the Disney Parks blog:
I'm excited to share that D-Tech Me is expanding starting August 26 at the World of Disney in Downtown Disney Marketplace. This new interactive experience will allow guests ages 3-12 to live out princess dreams by placing their likeness on a three-dimensional 7-inch Disney Princess figurine keepsake!
Children will have their choice of Ariel, Aurora, Belle, Cinderella, Rapunzel, Snow White or Tiana, and Catalano warns that parents will probably need a reservation -- in fact, it's "strongly recommended." This initiative follows the recent "Carbon-Freeze Me" experience during Disney's Star Wars Weekends, which allowed guests to put their faces on Han Solo figurines. But not everyone is so enthusiastic about the new collectibles.
Jezebel's Katie J.M. Baker points out that purchasing the keepsake might send little girls the wrong message. "They'll never forget what they're supposed to turn into when they grow up: a pretty pretty princess in a pretty pretty ballgown, ready for a Happily Ever After that begins and ends with marriage, male approval, and a disconcertingly tiny waist," she writes. Over at Business Insider, Michael Izzo calls the dolls "creepy," a word we at HuffPost Parents also tossed around when we saw the photos.
On the Disney Parks blog, however, commenters are mostly just disappointed that there's an age limit. "I'm a 22 year old woman… but I'm really a 5 yr old princess at heart!!," writes Cesilie from California. And Tracie from New Jersey has similar concerns: "The Carbon Freeze me was offered for both children and adults. Why make the exclusions for this?"
Take a look at the model figurine below, then tell us in the comments: Would you purchase one for your daughter?