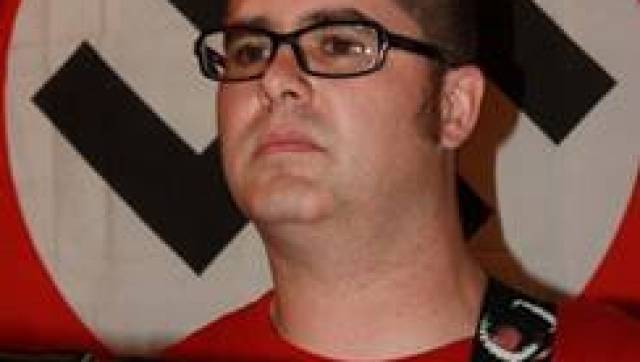 The white supremacist views of Wade Michael Page, the deceased man accused of mass murder at a Sikh temple in Wisconsin, may have been fostered in Orange County, Calif.
According to Pete Simi, a scholar who regularly slept on Page's couch and spent days on end with him for a book on neo-Nazis, Page said the Southern Cailfornia region "changed his life," the Los Angeles Times reports.
Page, who allegedly fatally shot six people at a Sikh temple in Wisconsin on Aug. 5, moved to the OC in 2001 specifically for the region's hate music scene. Soon after, he joined Youngland and several other hate music, or "hatecore," bands that regularly played at a neo-Nazi-friendly Anaheim bar called the Shack, according to Patch. The bar is now, ironically, a Latin dance club under different ownership.
See photos below of Page in one of his hate music bands, End Apathy.
Youngland, which appears to still be active, became known in the OC's hate music scene by its altered version of the John Denver song "Thank God I'm a Country Boy," retitled "Thank God I'm a White Boy," which has lyrics referring to "money-hungry Jews."
Hate groups use "hatecore" as a tool to recruit new members, such as when a neo-Nazi label distrubited 100,000 hate-music CDs to middle and high-school kids as a part of its "Project Schoolyard USA," according to the Southern Poverty Law Center.
Simi told the Times how much music meant to Page. "He expressed frustration that more whites weren't standing up and defending themselves," Simi said. "He felt music was one way to try to do that."
Simi also told Democracy Now that Page, who was in the US Army from 1992 to 1998, would talk about "how much the deck is stacked against whites," "that African-Americans in the military are coddled" and that "there was a small effort, a small conspiracy of Jews who were out to dominate world affairs."
Page isn't the only person whose white supremacist believes were fostered in Southern California. The Southland's growing racial diversity, coupled with the economic downturn, has fostered a welcoming environment for hate groups in the area. Last year, a 10-year-old boy allegedly shot and killed his father, white supremacist leader Jeff Hall, in Riverside. There was also a sizable neo-Nazi rally in Pomona to protest California's Dream Act.
Laura Eimiller, spokeswoman for the FBI's Los Angeles Division, which includes Orange County, said law enforcement must balance free speech with public safety. "We don't monitor groups exercising their First Amendment rights," she told the Orange County Register. "When a group crosses the line into criminal activity, that's what we're interested in knowing, and prosecuting."
This hate map from the Southern Poverty Law Center (SPLC) shows that California, with 84 hate groups, has the largest number of active hate groups nationwide.
On its site, the SPLC says it is tracking 1,018 hate groups nationally – a 69 percent increase since 2000. The group adds that domestic "Patriot" terrorist groups, like the one responsible for the Oklahoma City bombing, have grown by 755 percent in the first three years of the Obama administration –- from 149 at the end of 2008 to 1,274 in 2011.
After Page allegedly fatally shot six people at the Sikh temple, he shot himself in the head and died. Partly because they wear turbans and long beards, Sikhs are often mistaken for Muslims. The New York-based Sikh Coalition has reported more than 700 hate crimes against Sikhs in the U.S. since 9/11.
Click through photos of Page in one of his hate music bands, End Apathy::
Photos courtesy of the Anti-Defamation League and the Southern Poverty Law Center:
PHOTO GALLERY
Wade Michael Page In Hate Music Bands