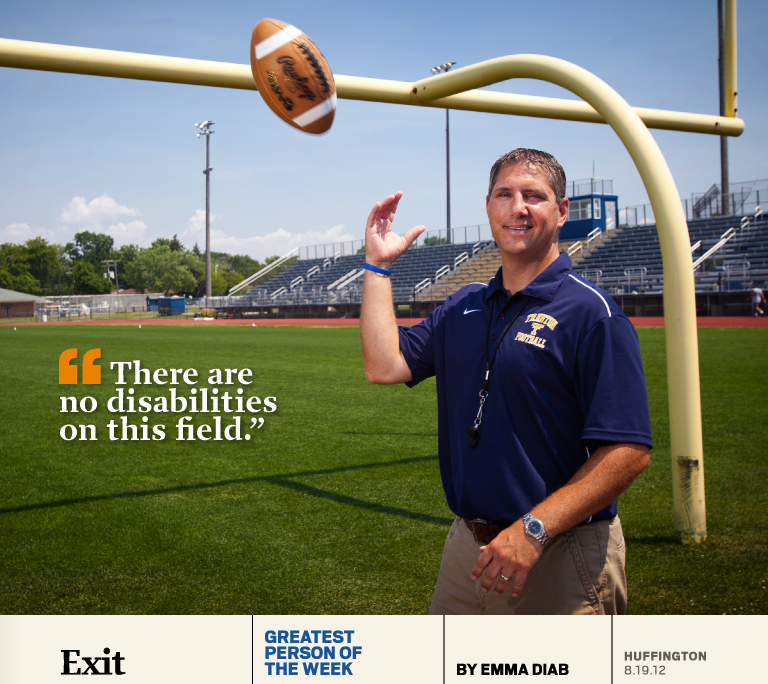 Eighth grader Tyler Sutherby does not talk much. He does not like to be touched, and he has only mastered reading at a first-grade level. But when Tyler, a student living with a genetic disorder called Fragile X Syndrome, was asked to read a book to any staff member at Boyd W. Arthurs Middle School, he did not pick his speech pathologist. He didn't choose his special education teacher or any other faculty member familiar with his disorder. He wanted Coach Aaron Segedi, or — as he likes to call him — Mr. Football.
Segedi, 36, takes his role as Mr. Football very seriously. In Wayne County, Michigan, he's opened the sport to everyone's participation, not just athletic young men like the ones he coaches for the Trenton Trojans' football team. His vision is realized in Victory Day, an initiative he created for special needs children who are autistic or physically or cognitively impaired to actively participate in football.
"Victory Day is each kid's moment to shine," says Segedi. "There are no disabilities on this field."
WHAT IS VICTORY DAY?
Victory Day, held every September since 2010, involves the whole football community — the marching band, cheerleaders and team. About 60 children and young adults, ages from six to 24, are paired up with a mentor. Some practice skills like tackling, while others learn cheers or play drums for the marching band. It's a daylong event, but the real fun begins when the game starts ­— the Trojans play defense against the Victory Day team, allowing them to break through their ranks and score touchdowns to the sounds of a roaring crowd of parents and supporters.
"There was one little kid, Noah," recalls Segedi. "He's 10 years old, and has Down syndrome. His mom told me that every time Noah drives by the football field he nudges her and says, 'Mommy that's where I scored my touchdown.'"
Before the first Victory Day in 2010, Segedi said he received a phone call from a father of an autistic boy who was participating in the game.
"He said, 'I have butterflies in my stomach [knowing] that my autistic son in going to play football on Saturday afternoon,'" Segedi said. "How cool is that?"
The premise of Victory Day was born when Segedi, who teaches language arts and science at Arthurs Middle School, in addition to coaching, was trying to formulate a community service project for his football players. He wanted the football program to give back to the community and disadvantaged children, as well as help his players build character. Now, even the rival teams in the county come out to participate in Victory Day.
"What are we doing as coaches?" he asks. "Are we worrying about wins and losses all the time? We are here to make these kids better human beings."
Segedi recalls the initial reaction from the football team when he told them of his Victory Day plan.
"'You want us to do what on a Saturday in the course of the season?' they said to me. I said, 'What's the priority here?' They quickly saw what I was trying to get across and said, 'Hey, let's try it.'"

AN EYE-OPENING STRUGGLE
It wasn't just his duty as a coach and educator that motivated Segedi to give back to his community. His battle with cancer in 2005 changed his perspective on life. The married father of two fought through bio duct cancer, which was brought on by a previous lifelong illness. To combat the lifelong illness, he needed a liver transplant, but to make things more complicated, he couldn't go ahead with the transplant until the cancer was at bay. Meanwhile, he was told he would likely wait about two years for a new liver, and doctors said he would die waiting. To save his life, Segedi's sister, Rhonda, donated 70 percent of her own liver.
"I promised myself as I went through all of this I was going to make a positive impact on other people's lives," he said.
As he was planning the first Victory Day, Segedi was thrown into a second round with cancer. This time, it was post-transplant lymphoma disorder, caused by the anti-rejection medication he was taking for his liver transplant.
"There's a reason I got cancer twice," says Segedi. "And I try to believe God gives us an amount that we can handle in life."
He gets routine tests to make sure the cancer is gone and has no intention to stop teaching, coaching football or planning Victory Day.
"I'd have to be on my deathbed," Segedi said. "It takes a lot to knock me down."
GOING NATIONWIDE
By 2010, Segedi's cancer was in remission and the first Victory Day had taken place on the turf of Trenton's Farrar Stadium. As the third annual Victory Day, set for Sept. 15, approaches, Segedi anticipates what's to come for his initiative.
"I want this to go nationwide," he says. This year, Nike is even sponsoring his event, providing custom jerseys for the players. The coach has also been speaking to schools across the country about Victory Day, the event spreading to other schools in Michigan, Kentucky, Ohio and Indiana. An initiative whose funds go solely towards the event, any surplus money is passed to another school struggling to form its own Victory Day.
"I don't want any money," says Segedi. "Our kids now look at it like, we're so blessed to be able to play this game, to do the things we do that these children would die to do. I want the word to spread for this to be something great."
Nate Stemen contributed to this story.
This story originally appeared in Huffington, in the iTunes App store.