For dog owners who like to dress up their precious pups, it takes a bit of patience -- or a lot of treats -- to get the perfect shot. So we can't even imagine what it took for this early 20th century photographer to take these adorable portraits of bulldogs in costume around 1905.
The vintage black-and-white photos were taken with a large format camera on an 8x10 negative, according to My Modern Met. Obtained by the Library of Congress as a gift from the State Historical Society of Colorado, the portraits show a bulldog dressed in four different outfits, typical of the time period.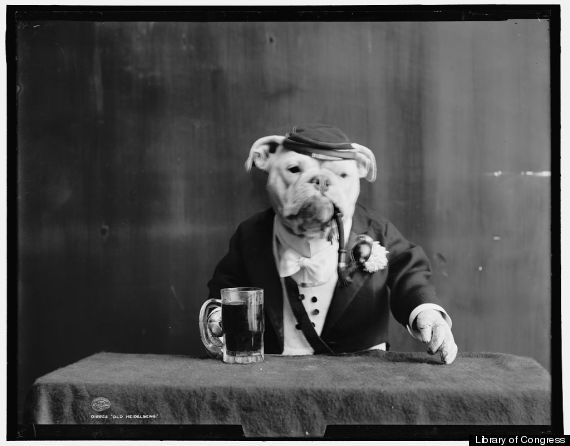 This black-and-white portrait, courtesy of the Library of Congress, is titled "Old Heidelberg."
With photography capabilities during this time, the animal subjects would have needed to stay still for several minutes in order for the photo to appear clearly. Judging from the slight blur of the dog's face in photo entitled "Old Heidelberg," the four surviving portraits were likely the result of many attempts.
Another print, titled, "Tommy Atkins," shows a dog in a soldier's uniform with a pipe in his mouth. "Tommy Atkins" or simply "Tommy" was the generic name given to soliders, particularly to British infantry during World War I. It later spawned the creation of a British toy company of the same name.
Check out the gallery below to see "Tommy" and the other portraits of bulldogs in costume.
(h/t Fark)
PHOTO GALLERY
Portraits Of Bulldogs From 1905
BEFORE YOU GO