A few months ago, we learned of the Cupcakewurst -- the unholy hybrid of sausage and cupcake. Stef, the blogger behind such a creation (see her work on The Cupcake Project blog) may have just outdone herself though. She has combined two of America's favorite comfort foods -- chocolate chip cookies and grilled cheese -- into one. Her Chocolate Chip Cookie Grilled Cheese Sandwich teeters right on that edge between excellent idea and frightening combination.
But, we think she's found a winner because she went so far as to ask the cheesemonger at Whole Foods what cheese would go best for a chocolate chip cookie grilled cheese sandwich. We've got nothing but respect for that. She used herve mons pave du norde but recommends any cheese that melts well (based on a recent HuffPost Grilled Cheese Deathmatch, people are partial to cheddar over American).
For the full recipe, head to The Cupcake Project. To bask in the glory that is a Chocolate Chip Cookie Grilled Cheese Sandwich, see the photo below.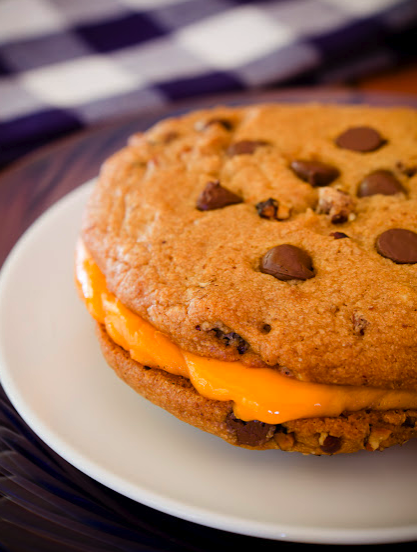 [via Laughing Squid]
BEFORE YOU GO
PHOTO GALLERY
Best Grilled Cheese