New mom Hilary Duff loves showing off her 4-and-a-half-month-old son, Luca.
The 24-year-old singer and actress has been sharing her pride and joy's every milestone with her Twitter followers and it looks like little Luca is now teething.
"Luca is cutting a tooth!!! It's the cutest/saddest (because it hurts) getting so big my boy!! Gunna have a little toof lol," Duff tweeted last week to her 1.5 million followers.
Earlier this month, Duff also posted a photo of her little man in his pre-teething stage, chewing on a "Tasty toy."
Duff is clearly in heaven documenting Luca's every move, but there's also some sad news. The former Disney star tweeted that she stopped tweeting for a few days since her other baby -- her dog Lola -- is sick again.
"Hi!I've abandoned my twitter 4 a few days.Lola got very sick again and it's been very hard:( pray for my girl,i get to bring her home today," she wrote on Aug. 9.
In February, Duff revealed that her Chihuahua had been having "terrible seizures" and had to have a shunt inserted in her skull in order to drain fluid from her brain. It seems that months later, her poor dog still hasn't fully recovered.
Although Duff is busy taking care of her family at home, she's also rumored to be back to work. In July, she was photographed in the recording studio with producer Mitch Allan and songwriter Ali Tamposi, and is thought to be recording new music to follow her 2007 album, "Dignity."
PHOTO: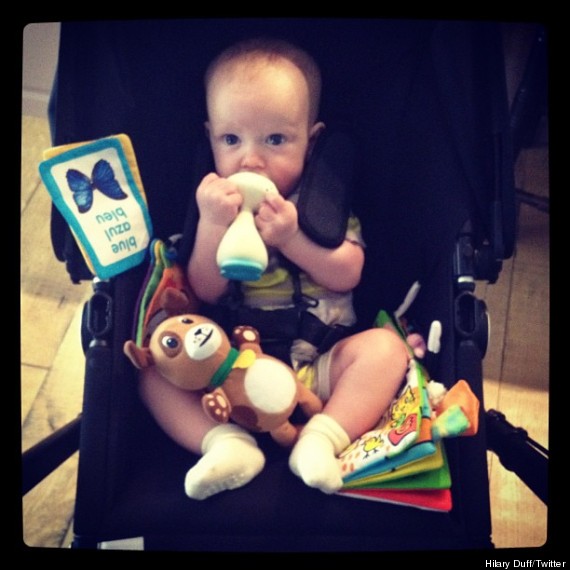 PHOTO GALLERY
Hilary Duff
BEFORE YOU GO