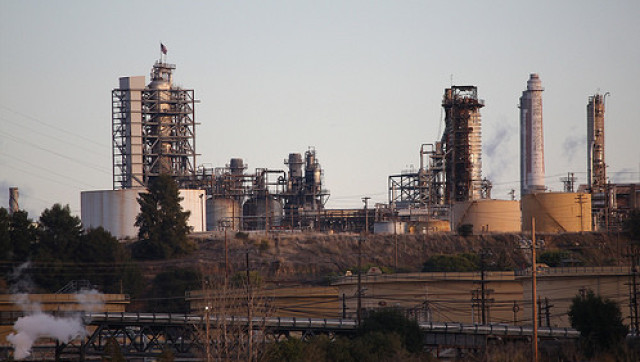 A fire broke out at the Shell Refinery in Martinez on Monday, according to Contra Costa County Public Health Department.
According to Shell, the fire started in a unit at the light oil processing area around 2 p.m. The health department responded to the fire, tweeting that HazMat staff was on the scene, but that there no shelter-in-place was issued. The fire was extinguished within an hour.
The Department issued an updated report at 3:15 p.m.:
The fire at Shell Refinery in Martinez is out and the health advisory has been lifted. There will be some flaring, but with no offsite impacts.

Earlier today, HazMat staff responded to a fire at the Shell Refinery in Martinez. The fire caused a small amount of smoke. There was no shelter-in-place but there was a health advisory for people with pre-existing respiratory issues such as asthma to avoid the area or stay indoors.
No injuries had been reported at the time of publication.
Though the incident was handled in what appeared to be an appropriate manner, the timing could not have been worse.
The fire comes one week after a fire at a Chevron refinery in Richmond forced a shelter-in-place order for nearby residents. Black smoke poured into the air for several hours. Since the incident, gas prices have spiked, and more than 4,000 health claims have been filed against Chevron.